10 Super Expensive Things Sofia Vergara Spent Her Money On
Sofia Vergara is the highest-paid actresses on television for seven years in a row. According to Forbes, the Colombian star made $42.5 million just in 2017. 73 percent more than Kaley Cuoco, who is in the second position.
The Modern Family star has $160 million net worth that comes from acting and also from licensed products. Sofia Vergara doesn't hide she enjoys having money and also has the best lifestyle money can buy. Mansions, private jets and fancy parties are part of Vergara's routine. However, she already said that she invests most of her fortune.
RELATED: 10 Crazy Expensive Things J Lo Has Bought
Click the button below to start this article in quick view
10 Beverly Hills Villa
In 2014 Sofia Vergara bought a $10 600 000 villa in Beverly Hills. The purchase was just before her marriage with Joe Manganiello and the place looks like a perfect place to start a new life.
The villa has 11,400-square-foot, seven rooms and 11 bathrooms. The large master suite has a private balcony and also a walk-in closet.
The kitchen also has a space for a dining room and a door to a vast terrace. The house also features a large wine cellar for three thousand bottles, a gym, a sauna and a landscaped swimming pool.
9 Almost Secret Beach House
Everybody has a favorite place to relax. Sofia Vergara has a beach house in the Bahamas. For some years, Vergara kept the location a secret, but she often shared pictures of her holidays there. In 2018, Sofia and her husband spent Christmas there.
RELATED:  The Entire Modern Family Cast Net Worth
The place is in front of the beach, has two floors, a terrace and multiple balconies. The house is not so luxurious as her main home in Beverly Hills and there is no information about the price. However, having a house in the Bahamas isn't cheap.
8 Dermatologist
Sofia Vergara turned 47 this year and she still has flawless skin. The Modern Family star already shared her daily beauty routine with affordable products.
However, there is also a secret behind her perfect skin. She is a client of Dendy Engelman, a dermatologist known for having several celebrities among her clients. Engelman also prepared Vergara's skin before her wedding.
"We started with Intense Pulse Light, which is a light-based device which helps to target both red and brown spots. People sometimes refer to it as a photo facial," Engelman told People. "That helps to accelerate cell turnover, build collagen, even out skin tone."
7 Cars
Usually, celebrities have a vast collection of luxurious cars in their garage. Sofia Vergara seems to be different. Although the actress chooses luxurious vehicles, it appears that she only has three cars.
RELATED:  10 Ridiculously Expensive Things Emma Watson Has Bought
One of them is a Range Rover that can cost from $89,500 up to $200 000. The actress loves the brand and also has a Range Rover Sport. Thar cost up to $79 000.
However, her most expensive car is a Bentley Bentayga, that is worth $232 000. She certainly knows how to drive with style.
6 Vacation
Sofia Vergara and Joe Manganiello are living an endless honeymoon since they got married in 2015. The couple have a beautiful house in the Bahamas, but this is not their only holiday destination.
The couple loves to travel. Earlier this year, they made a romantic trip to Italy to celebrate their 5th dating anniversary. The couple explored the beaches in Positano, one of the most beautiful regions in the country.
Sofia and Joe have also been to Hawaii, Turks and Caicos, Mexico and the list goes on. It seems to be one of their secrets to keep their love alive.
5 Birthday Parties
This year Sofia Vergara decided to celebrate her birthday in Italy, but almost every year she throws a big party and she puts effort on details.
RELATED:  10 Crazy Expensive Things Gal Galdot Has Bought
In 2018 Vergara had a birthday cake matching with her white dress. She also had a lemon-theme party a few years ago. The actress likes to share the details on her social media, so her fans can also see the party.
However, in 2017, her party dragged the attention for another reason. She rented Silvester birds, that were tightened so that the guests could take pictures with them.
4 Birthday party for her pet
Sofia Vergara loves to celebrate birthdays. It doesn't matter if it is hers, her son, her husband, or her son's dog, she will organize a party.
Baguette's celebrated her 5th birthday this year in grand style. She was woken up by a money gun and was covered with $5000. The chihuahua also got a layer cake and several presents.
The dog has 36 thousand followers on her social media and she is often seen enjoying life better than most humans beings. Sofia is not the only celebrity who loves to spoil her pets. Mariah Carrey, Jennifer Aniston and even Queen Elizabeth II spend lots of money on their pets.
3  Frozen Embryos
Sofia Vergara was once engaged to Nick Loeb. Together, they decided to freeze some embryos in case they wanted to have children in the future. Storing embryos can cost up to one thousand per year, an insignificant amount if compared to Vergara's fortune.
However, it cost her lots of money. After the couple broke up, Sofia wanted to destroy the embryos. Loeb filed a lawsuit against her because of it. This is making the headlines since 2015 and Sofia is spending thousands on lawyers.
In June, Loed demanded $120 000 from Sofia Vergara to cover his attorney's fees.
2 Wedding
Sofia Vergara and Joe Manganiello didn't hold back to spend money on their wedding. Some say they spent 3-4 million dollars on their big day.
The ceremony was held at Breakers Hotel, a five-star hotel in California. Vergara walked down the aisle surrounded by flowers and she was wearing a princess-like dress.
"It was like a fairy tale. It came out perfectly how I wanted it, I have to say," the actress said in an interview with Ellen DeGeneres. The fairy tale seems to go on still and the couple looks very much in love.
1 Private Plane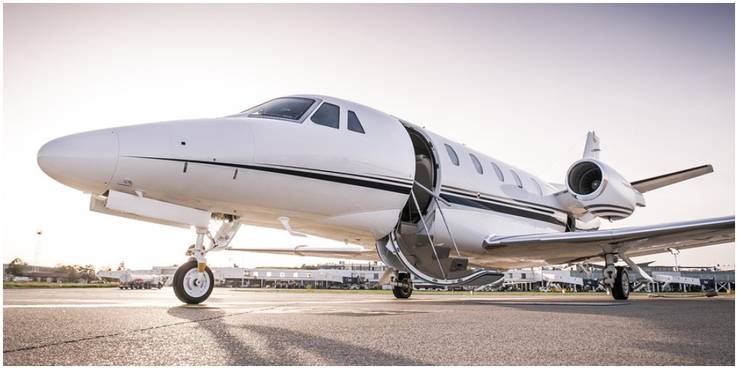 Sofia Vergara spends a considerable part of her life in an airplane. She often has to travel for work but, as you already know, she loves taking holidays abroad. We are also aware that the actress likes to have a high-profile lifestyle, so it is no surprise she often travels on a private jet. It is a great way to avoid jet lag.
It is still unclear if Vergara owns a private jet or if she rents it when she is going to travel. But both options are costly and most people could never afford it.
NEXT: 10 Most Expensive Restaurants in Los Angeles
Tags:celebrity,Expensive,Sofia Vergara
Source: Read Full Article