I Never Thought I Could Pull Off Purple Blush Until I Met This Product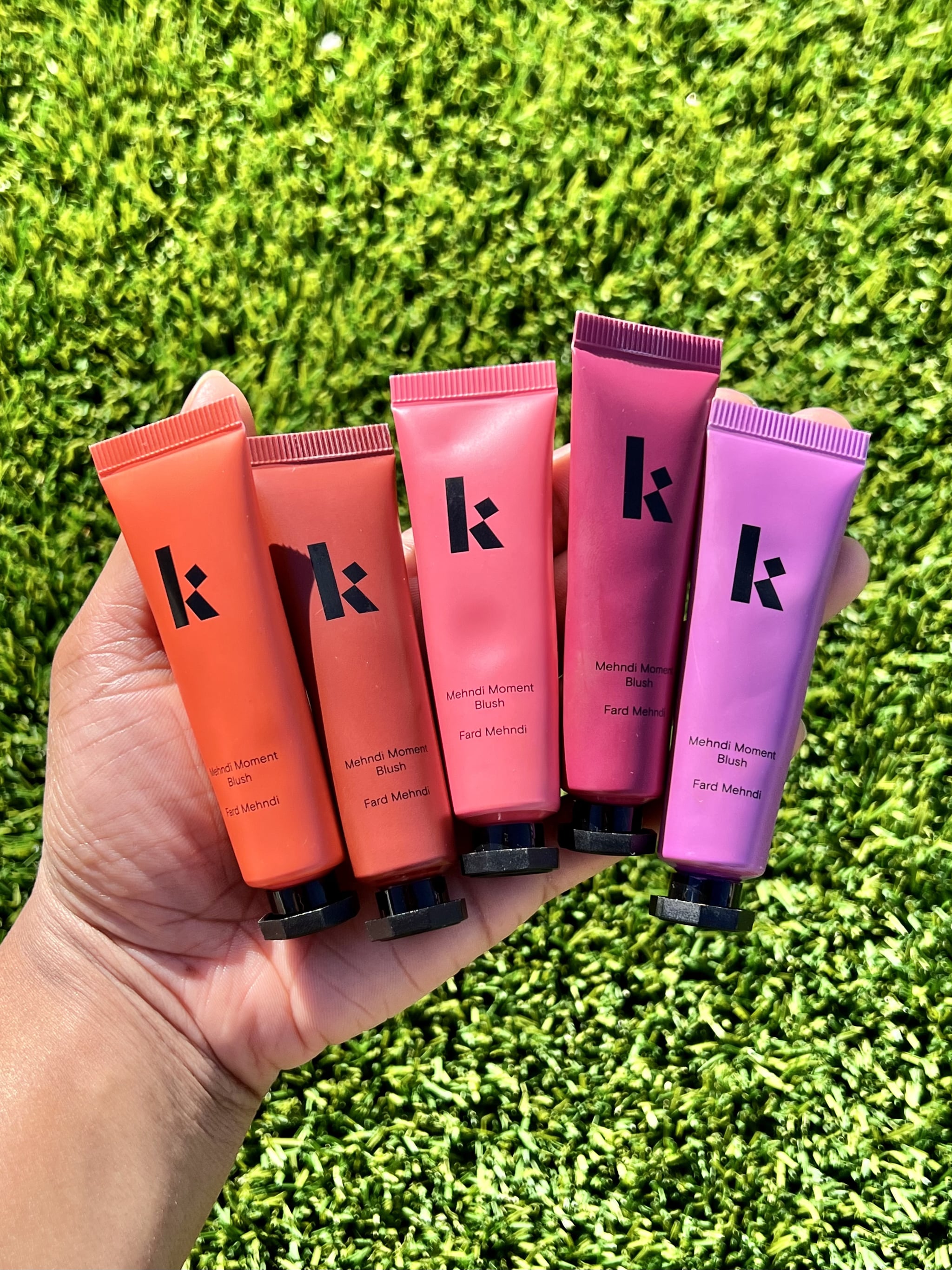 Up until a few months ago, I wasn't a blush person. I had a tough time finding a natural-looking blush for my skin tone, but when I tried Live Tinted's Huebeam Blushing Bronzer, I never turned back. With my newfound confidence in complexion products, I was eager to experiment with the blush category in my makeup routine.
Kulfi Beauty came out with a set of cream blushes that pay homage to the art of mehndi or henna, an herbal paste used to create intricate designs of temporary body art or tattoos that stain the skin with deep red or orange tones. Inspired by the long wear and deep pigment of mehndi, the brand created the Mehndi Moment Cream Blush ($28) to deliver a radiant flush of color on the cheeks. I'm already a fan of two of Kulfi Beauty's products — the Underlined Kajal Eyeliner, which is long lasting, waterproof, and pigmented, and the Main Match Concealer, which is creamy and hydrating and can even cover a hickey — so I had to give these a shot.
Keep reading for my full review of the Mehndi Moment Cream Blush with photos.
About the Kulfi Beauty Mehndi Moment Cream Blush
This cream formula is pigmented but easy to blend, buildable, and long lasting.
It's available in five shades: Pinky Promise (a light pink), Blessed Berry (a deep pink), Garland Glow (a coral orange), Sandalwood Swirls (a rosy brown), and Lucky Lotus (a bright purple).
The blush contains antioxidant-rich amla extract and hydrating hibiscus extract.
The formula is vegan, gluten-free, and cruelty-free.
What I Like About the Kulfi Beauty Mehndi Moment Cream Blush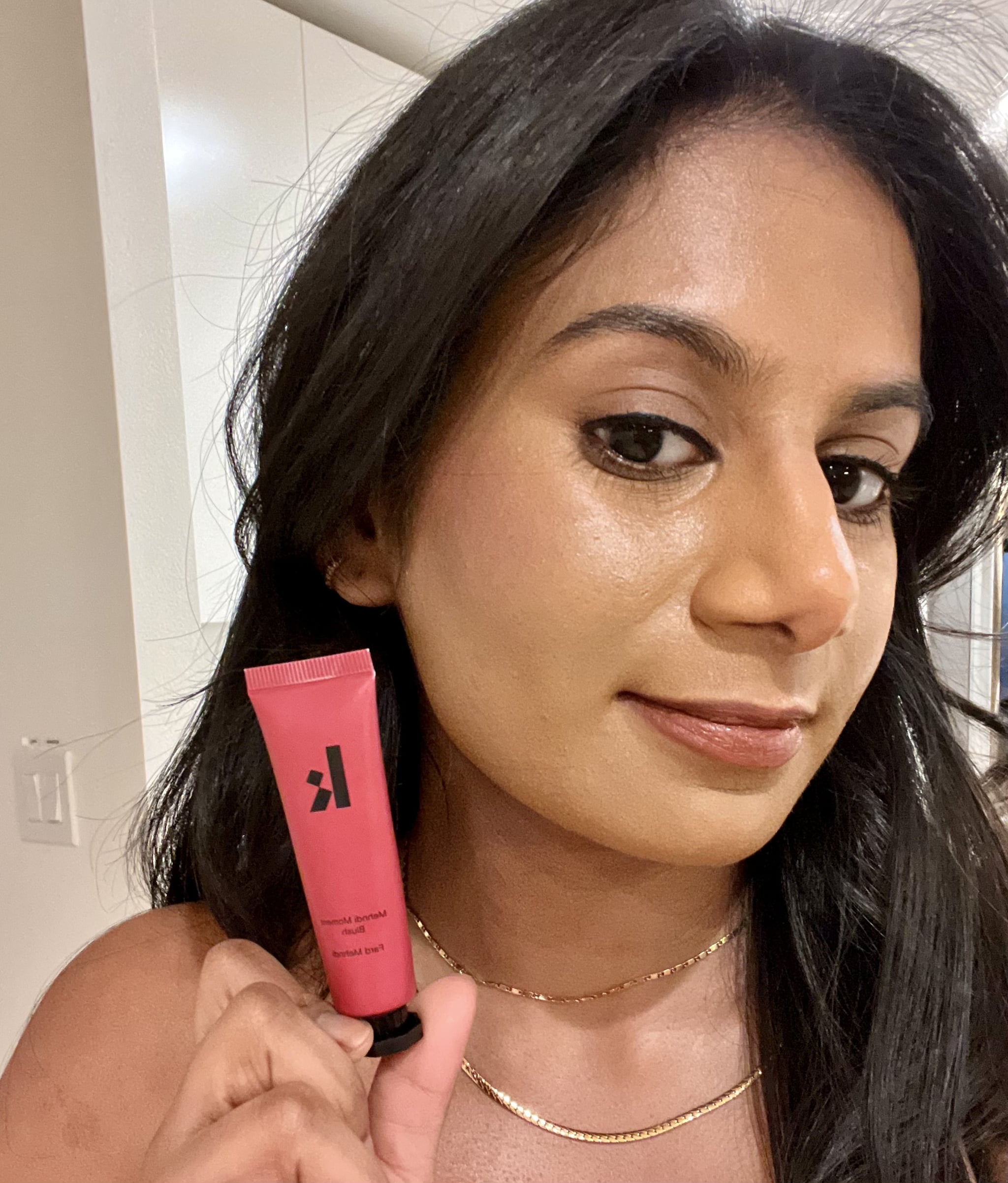 I'm not going to lie, I initially gravitated toward this product because of how it's reminiscent of the art of mehndi — something that I love donning myself and makes me feel connected to my culture. However, the quality of the formula itself truly lives up to its promises. While cream makeup can often fade quickly, this blush stays in place all day long, without disappearing into my skin or melting onto other portions of my face. The Mehndi Moment Cream Blush blends in beautifully, giving my skin a flush of color without harsh lines or patchiness. Its smooth, hydrating formula delivers an airbrushed look and a subtle radiant glow.
The Mehndi Moment Blush comes in five shades, ideal for most blush preferences. I love how berry, brick-red, and warm-brown tones look on my skin, so I felt comfortable with the Blessed Berry and Sandalwood Swirls shades. However, after watching a TikTok of someone with my deeper skin tone raving about using purple blush, I had to take the plunge and try out Lucky Lotus.
The purple blush looked unexpectedly natural and gave me a flush of color that felt romantic yet glamorous. After that, it was game over; I'm a purple-blush girl now. What I love about Lucky Lotus is that the purple shade balances warm and cool tones to complement my neutral undertones. When this pigment blends against my base makeup, it looks perfectly in harmony. Now Kulfi Beauty's Mehndi Moment Blush in Lucky Lotus is one of my all-time favorite blushes, and I can't stop using it.
How to Use the Kulfi Beauty Mehndi Moment Cream Blush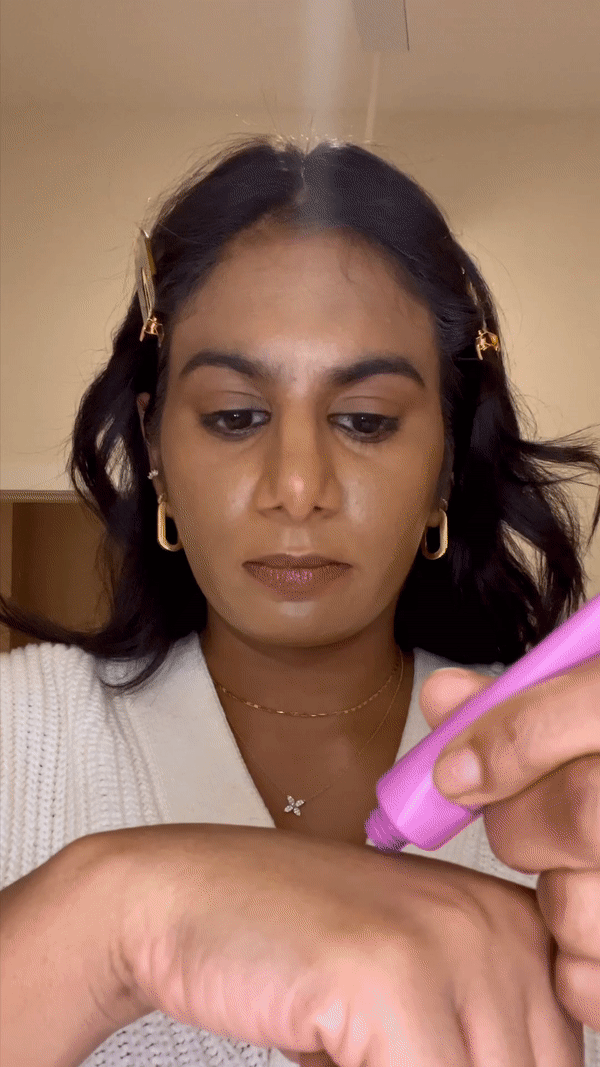 This cream blush is pretty pigmented, so the brand recommends starting off conservatively, then building it up from there. In order to have better control of the product, I like to dot a small amount of the blush onto the back of my hand, warm up the product using my fingers, dot it along my cheeks, then blend it with a dense buffing brush. Personally, I like to place my blush on my cheekbones and blend up toward my temples, and I find that an angled brush works best for that. You can also use your fingers to blend the blush into your skin, but using a buffing brush gives me more control and an airbrushed look. I use this cream formula after I apply my base makeup, including foundation and concealer. I set everything with a translucent powder afterward.
If I am feeling extra cheeky and want to add more pigment to my look, I'll build up the color by dabbing my buffing brush into the product on the back of my hand and blending it directly onto my skin. However, sometimes I take it a little too far, and that's when I go back with a powder foundation or tinted setting powder and diffuse the color. You can also dot on concealer to help as well.
What to Consider Before Trying the Kulfi Beauty Mehndi Moment Cream Blush
Like with most cream or liquid blushes or bronzers, there's a slight learning curve in using the product — after all, clowncore is not a thing (yet). Starting off with a small amount of the blush and building up and blending from there is key to making this cream blush look natural. If you're prone to having a heavier hand during product application, this might be a little tricky for you to use. It requires patience and blending.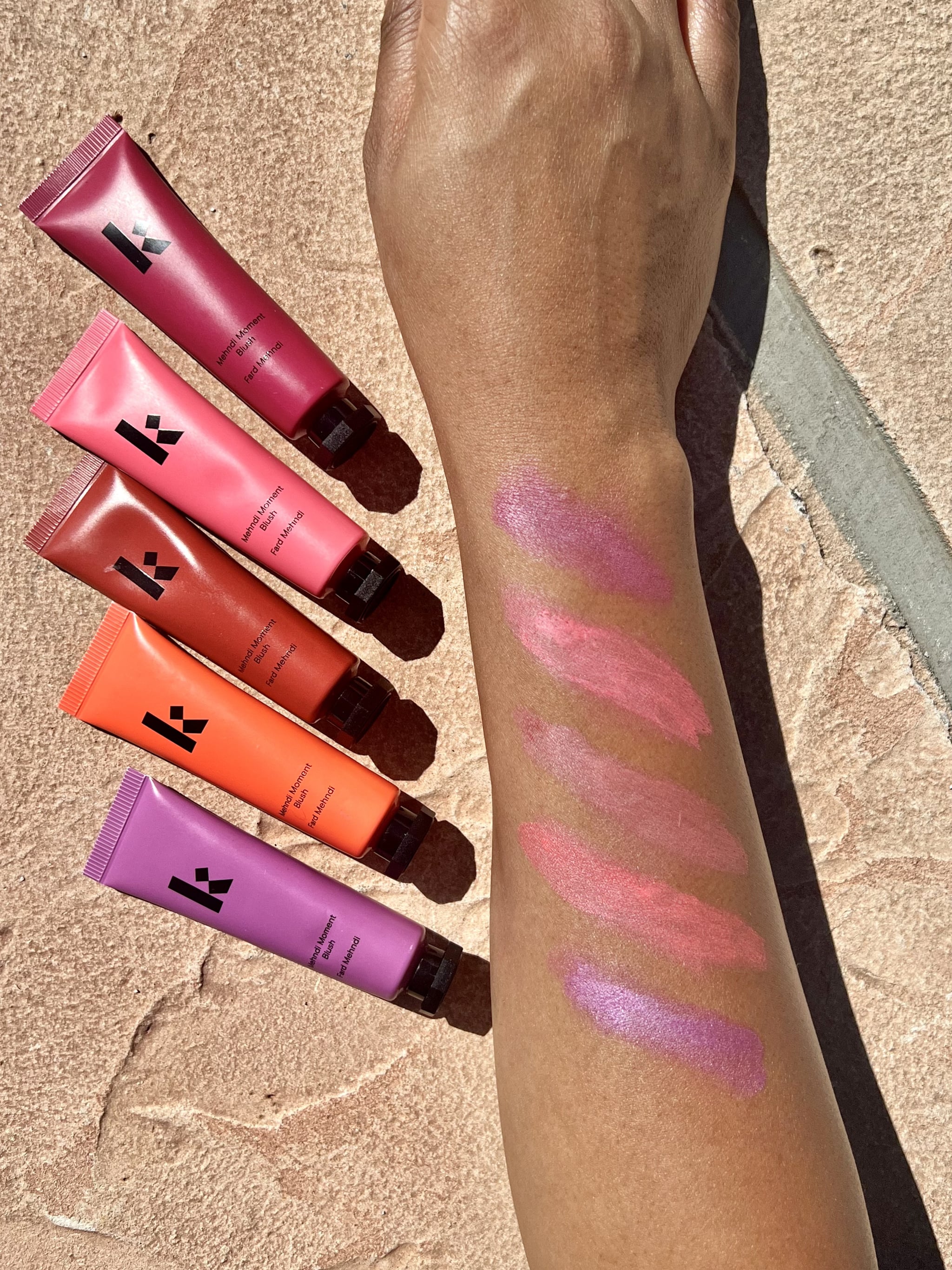 Although the shades are made to complement a wide variety of skin tones, depending on your skin tone and undertone, some of these shades are a better fit and deliver a different result for your complexion. For example, the purple shade Lucky Lotus gave my complexion the soft, romantic look you'd get from a traditional pink shade like Pinky Promise. I gravitated toward colors like Blessed Berry, Sandalwood Swirls, and Lucky Lotus rather than Pinky Promise and Garland Glow. If you want to try this out, I suggest getting a shade you're already comfortable with, seeing if you can work with the format, and then investing in the other ones you've been eyeing.
Where Is the Kulfi Beauty Mehndi Moment Cream Blush Available?
The Kulfi Beauty Mehndi Moment Cream Blush is available on the brand's site and at Sephora ($28).
Rating: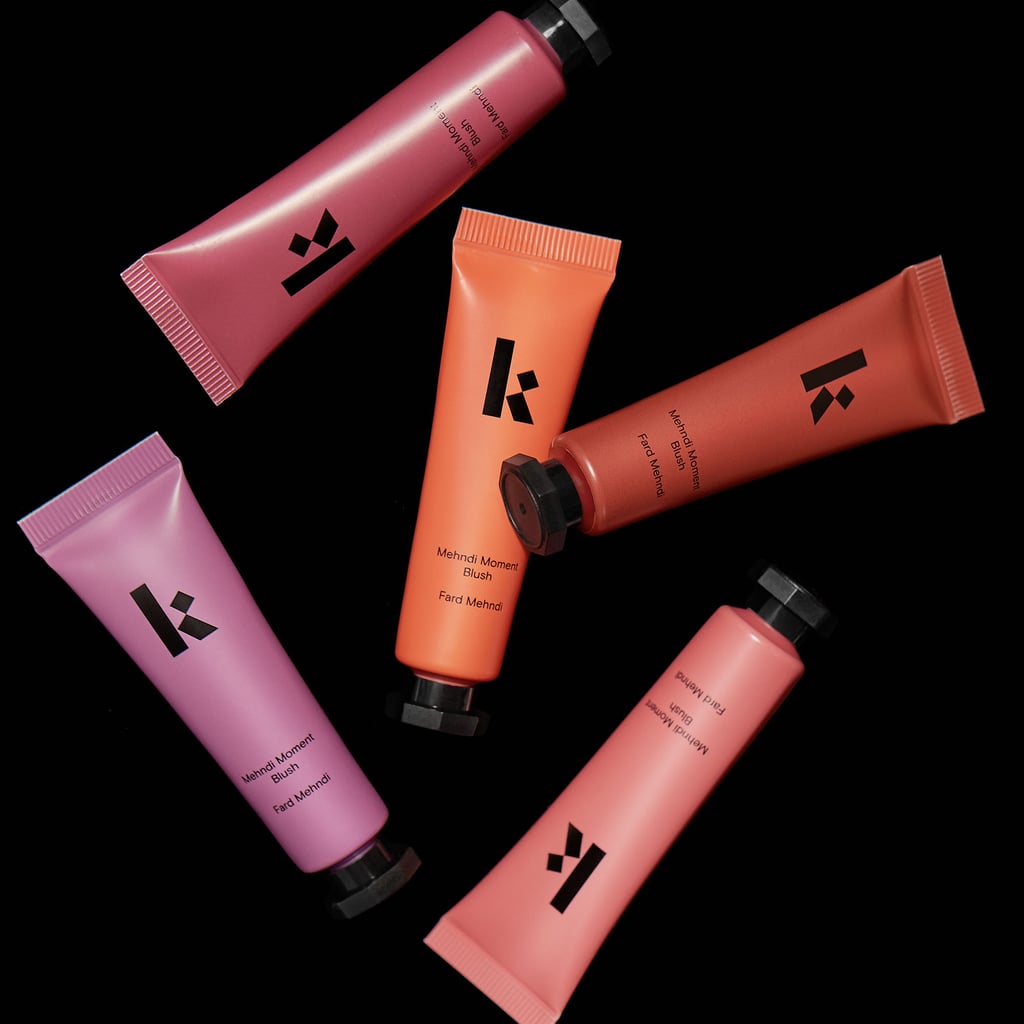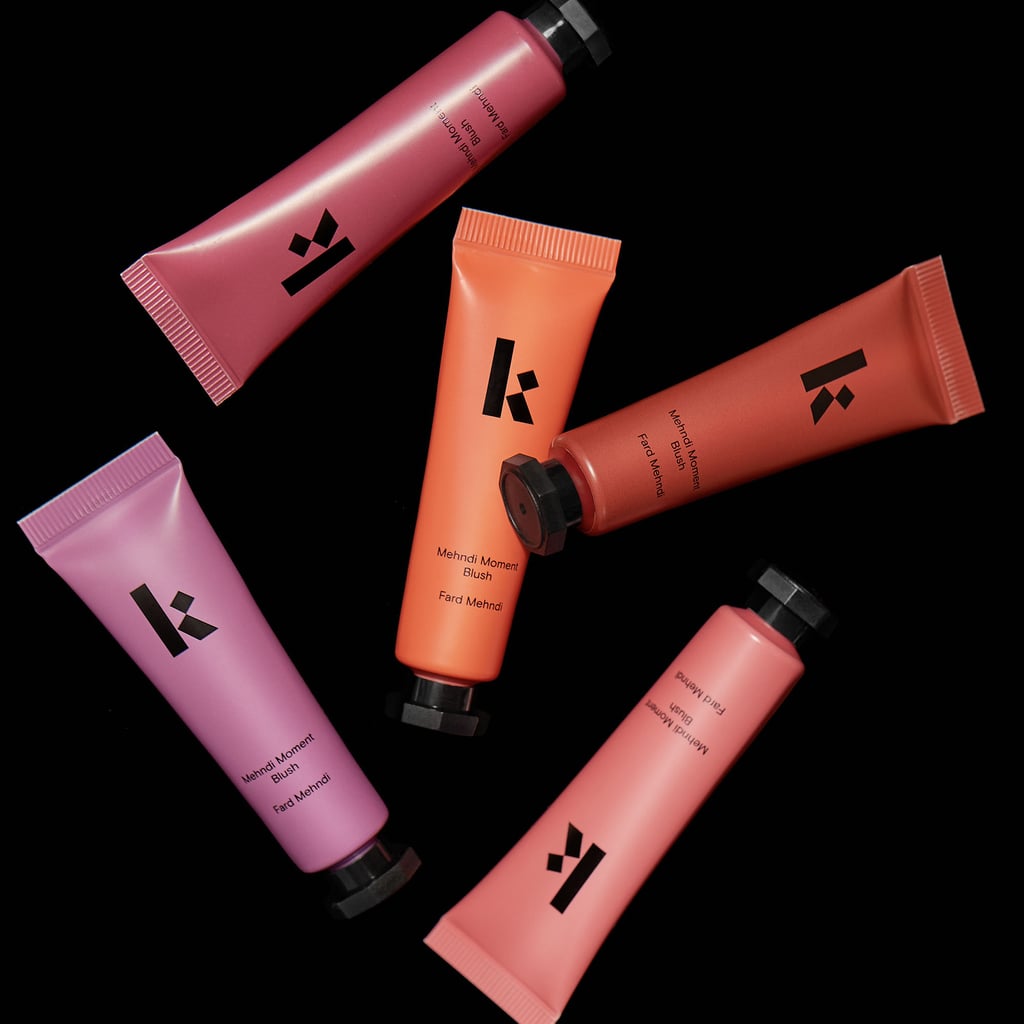 Source: Read Full Article