America came together post-election to yell at The Gap's stupid unity hoodie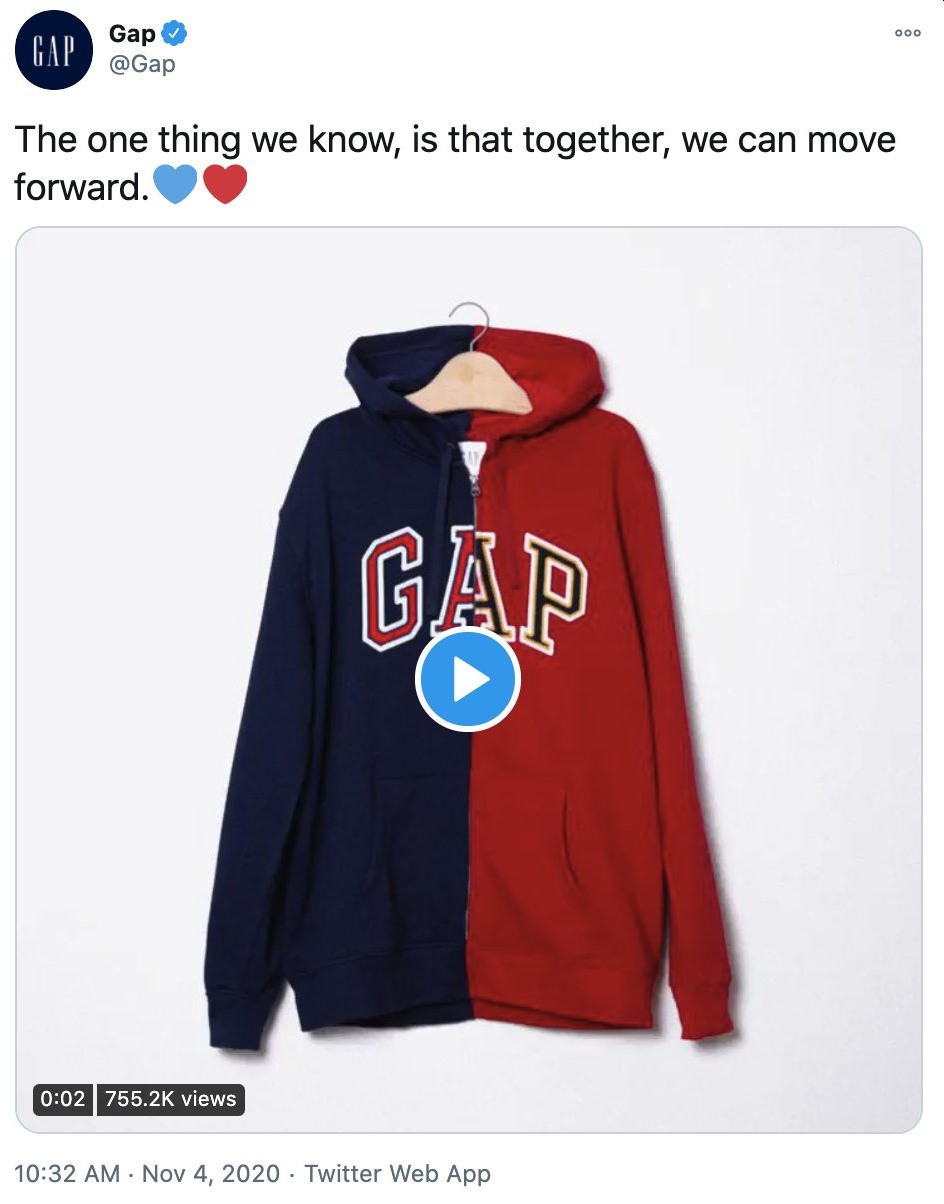 Question: do you guys follow retail companies or restaurants on Twitter or Instagram? I don't, and I feel like most people don't? Maybe I'm wrong, but I always find it weird when people are following McDonald's or The Gap. Anyway, apparently people do follow The Gap on social media, even though malls are dying and The Gap isn't all that relevant anymore. The Gap decided to chime in on the presidential election unfolding on Wednesday. They posted the tweet, above. They deleted the tweet and now only screencaps remain. NYT reporter Sapna Maheshwari said that "A spokesperson told me that it was not a real hoodie for sale." Which is… strange that the hoodie doesn't even exist! Like, they did a mock-up of a hoodie… just for an election tweet. Anyway, The Gap was slammed for their somewhat tone-deaf tweet and here's what they had to say afterwards:
As the United States grappled with the uncertainty over the still-unresolved presidential election on Wednesday, the Gap tweeted an image of a half-red, half-blue hoodie bearing the brand's logo, along with the caption, "The one thing we know, is that together, we can move forward." Clicking the image showed the sweatshirt being zipped up.

The post, which was subsequently deleted, quickly went viral and was met with widespread mockery and criticism. "Read the room," several users wrote. "Really? A red & blue hoodie is the healing ointment America needs?" one user posted. The model and food blogger Chrissy Teigen wrote, "yay, we can just walk sideways depending on the city we're in."

A representative for Gap, which has been working to increase the relevance of its brand, said the sweatshirt was not actually for sale and that the image had been created for social media.

"From the start we have been a brand that bridges the gap between individuals, cultures and generations," the company said in a statement. "The intention of our social media post, that featured a red and blue hoodie, was to show the power of unity. It was just too soon for this message. We remain optimistic that our country will come together to drive positive change for all."

The incident is likely to serve as a warning for other brands that may be considering offering commentary on the election.
[From The NY Times]
I don't know. I think this is kind of a stupid controversy all-around? Yes, the original tweet was pretty dumb, but The Gap probably made it into a bigger deal by deleting it and making it all about "unity"- the unity to buy a hoodie which doesn't exist, a red-and-blue hoodie which is actually pretty ugly in general. On the scale of Retail Fails, this one doesn't offend me as much as the Girl Scouts cozying up to Handmaid Power Amy Coney Barrett, thus destroying all goodwill towards Thin Mints and Samoas.
— Gabi Moskowitz (@gabimoskowitz) November 4, 2020
— patrick wells (@pwells) November 4, 2020
— joshua rush (@JoshuaRush) November 4, 2020
— Diego Lopez (@thisdiegolopez) November 4, 2020
— Christopher Wylie 🏳️‍🌈 (@chrisinsilico) November 4, 2020
Screencap courtesy of Twitter.
Source: Read Full Article