Aw! Denzel Washington Was Happily Surrounded by Family While Being Honored at the AFI Gala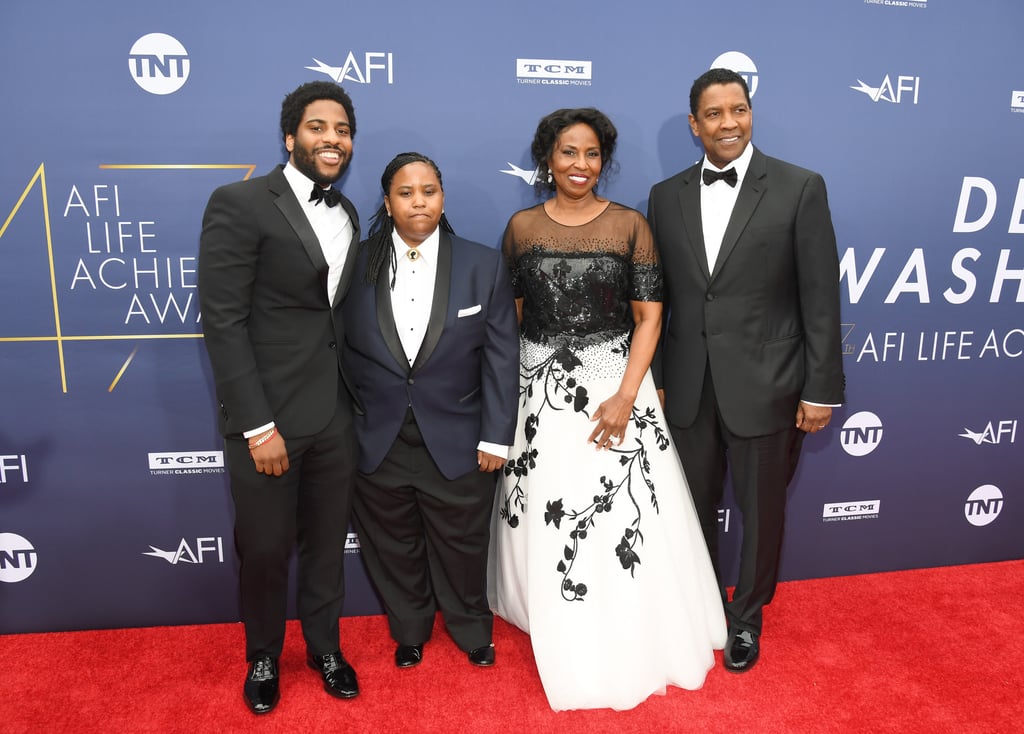 Denzel Washington, 64, was honored at the 47th AFI Life Achievement Award tribute gala on Thursday by a handful of stars, such as Michael B. Jordan, Chadwick Boseman, and Julia Roberts. During the Los Angeles event, Denzel — who was joined by wife Pauletta and his kids Katia, 31, and Malcolm, 28 — listened as his peers took the stage to sing his praises and revere his illustrious career, which includes starring in classics like Training Day and Remember the Titans.
Julia — who starred alongside Denzel in 1993's The Pelican Brief — read a heartfelt letter of recommendation written by Denzel's university acting teacher, Robert Stone. "I say without hesitation that Mr. Washington is the finest young actor I have ever known," the letter read. "If there is such a thing as genius, then I assure you Mr. Washington is one. I honestly believe that even now he is the best actor I have ever known or seen and God only knows where this can take him."
Chadwick also shared some meaningful words about the actor, saying, "You built a body of work, characters, movies, moments that defied the limitations of story and success that has historically been available to the black actor. And amongst all the great male leads of Hollywood history, you measure up as great, if not greater, if not the G.O.A.T. And that would be enough to give, but I know personally that your generosity extends past what you have given."
The good times kept rolling throughout the evening as Jennifer Hudson gave a rousing performance of Sam Cooke's "A Change Is Gonna Come," which was featured in Denzel's 1992 film Malcolm X. There was even a surprise appearance from Beyoncé, who presented AFI's Franklin J. Schaffner Alumni Medal to Melina Matsoukas (the director of Bey's "Formation" music video). Overall, it was a fun-filled event that paid homage to one of Hollywood's finest.
Source: Read Full Article