Elon Musk Apparently Forced to Sell His $25 B Tesla Shares Due to Upcoming Tax Bill
After asking his fans and followers whether or not he should sell his $25 billion Tesla shares in an online poll, the CEO of SpaceX is accused of manipulating the stock market.
AceShowbiz –Elon Musk is about to lose approximately $25 billion worth of his Tesla stock. If a new report is to be believed, the tech mogul is currently facing a tax bill of more than $15 billion in the coming months on stock options.
On Sunday, November 7, the 50-year-old CEO of SpaceX created a Twitter poll. "Much is made lately of unrealised gains being a means of tax avoidance, so I propose selling 10% of my Tesla stock. Do you support this?" he wrote.
In a separate Twitter post, Elon continued to note that he "will abide by the results of this poll, whichever way it goes." The entrepreneur and business magnate added, "Note, I do not take a cash salary or bonus from anywhere. I only have stock, thus the only way for me to pay taxes personally is to sell stock."
The poll has now concluded. After 3,519,252 votes, 57.9% of people were in favor of the sale and 42.1% against it. No matter the results of the poll, Elon would have likely started selling millions of shares this quarter. As per CNBC report, this was a result of a looming tax bill of more than $15 billion.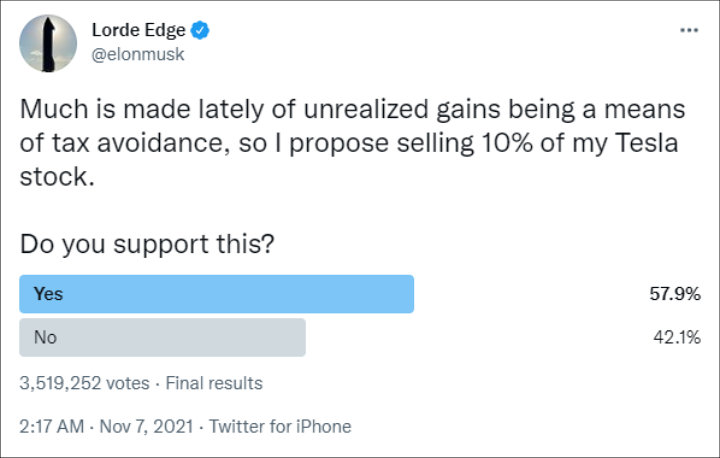 Elon Musk created a Twitter poll to ask his followers whether or not he should sell 10% of his Tesla shares.
However, many were critical of Elon's tweet and accused the multi-billionaire of market manipulation. One Twitter user replied to the tweet, "Stop manipulating the stock market with your fame and do something prosocial with your wealth."
"You do realise that Tesla stock will now tank on Monday because of this, thus ending the awesome run the stock has made the last month," another chimed in. "Posts like this is taking money out of the pockets of the people who have believed in you and your company the most."
A third further stressed, "Why not just sell a small % of your stock each year like many CEOs? Why 10% in one go?" Elon himself has defended himself while replying to one of his followers asking about the result as saying, "I was prepared to accept either outcome."
Source: Read Full Article