Giada De Laurentiis Says Her Lamb Bolognese 'Makes Enough for Two Meals'
Food Network star Giada De Laurentiis' spin on traditional Bolognese features rich, earthy lamb.
The chef's gravy, as it's called in many Italian households, simmers for a nice, long while in a savory sauce that includes red wine, tomato paste, and milk. It's a decadent and delicious spin on the classic recipe.
De Laurentiis' Lamb Bolognese is a simple sauce with tons of flavor
The Simply Giada chef wrote on her food blog Giadzy that this variation on the classic sauce is used in a specific region of Italy.
"This version of Bolognese is half lamb and half ground beef, a mixture you'll see a lot in northern Italy," De Laurentiis explained. "Because the lamb is lean, this is a somewhat lighter sauce than all-beef or pork-based ragu."
She added that it's important to allow it to cook for a while for all of its flavors to meld together:
"This sauce needs a good long simmer, but it makes enough for two meals!," she added. "The pasta shouldn't be swimming in sauce; you only want it to stain the pasta, so you'll likely have some leftover sauce, which I love to have in the fridge for a bonus weeknight dinner."
The chef's Lamb Bolognese has a kick of spice
In her cookbook Everyday Italian, the chef looked back fondly on the sauce as a favorite of her family's: "I used to love it on everything — pasta, rice, bread, potatoes, and polenta — you name it, I covered it in Bolognese. We went through a lot of it in my household. … Now that I'm all grown up, I try not to use Bolognese for everything, but it's tempting because it's perfect as a sauce for any type of pasta shape."
De Laurentiis' dish includes carrots, celery, onion, ground beef, ground lamb, tomato paste, whole milk, dry red wine, a Parmesan rind, crushed tomatoes and, for a spicy kick, Calabrian chili paste and crushed red pepper flakes.
It's all brought together in a saucepot, simmered for about two hours and then, the chef suggests, it's best served over a creamy polenta.
To prepare the polenta, simply bring chicken broth, oil, garlic, and water to a boil and stir in quick-cook polenta. Stir it with a wooden spoon for about 10 minutes until the mixture is smooth, then fold in Parmesan, mascarpone, and pecorino cheeses, as well as butter. 
Get the Lamb Bolognese and polenta recipes and reviews on Food Network's site.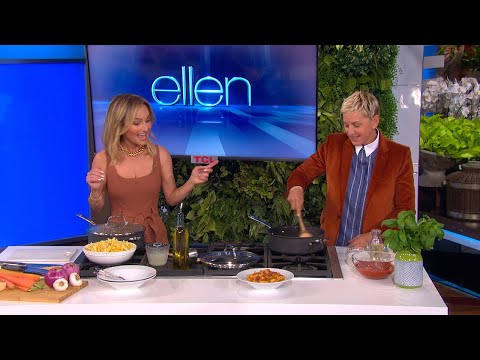 Home cooks called De Laurentiis' dish a 'restaurant-quality' meal
More meaty and filling than saucy, the chef's Bolognese impressed reviewers on Food Network's site.
"It was restaurant quality … Complex flavors. Highly recommend," wrote one home cook.
Another reviewer added, "This dish was delicious! My family enjoyed the entire meal. I found the instructions and directions for cooking easy to follow."
Source: Read Full Article