How Has Donald Trump Changed His Look Since Leaving The Presidential Office?
There's no doubting former president Donald Trump has a signature look. The businessman has become almost as well known for his, erm, unique appearance as he has for his signature divisive politics, with his wispy locks, orange tinted skin, and white eye circles having been much parodied over the years.
So easy has it become to copy Trump's look that, back in 2015, his signature style became the most popular politically charged Halloween costume. "Donald Trump is selling like crazy. I think it's both from supporters and people who love how ridiculous his hair is," Troy Eaves, vice president of marketing for HalloweenCostumes.com, told The Hill at the time.
There's also been years of speculation about why Trump's skin is such a unique shade. Jason Kelly, a makeup artist who work at the 2016 Republican National Convention, told Harper's Bazaar that year, "I know exactly what he does to himself — the tanning bed, the spray tan, he wears the goggles and you can see the hyper-pigmentation around his eyes."
Trump has always seemed pretty content with his looks, though — and hasn't been afraid to make sure everyone knows it. "Do I look like a president? How handsome am I, right? How handsome?" he asked a crowd of his supporters in Pennsylvania in 2016 (via CNN).
But it sounds like Trump may be looking a little different these days…
Donald Trump has reportedly lost weight and ditched the tanning beds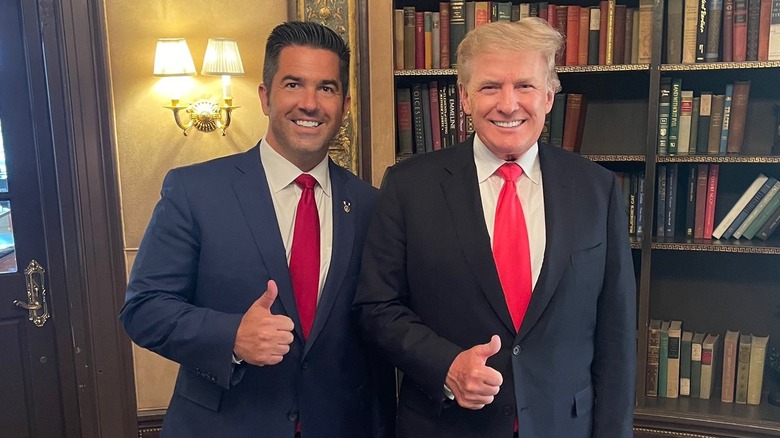 Donald Trump has a new look. According to Insider, Trump had lost around 15 to 20 pounds by the time April rolled around, only two months after he left the White House to make way for current president, Joe Biden. "He was eating all those M&Ms on [Air Force One] all the time. He's a big man with a big frame, and he's lost a lot of weight. I can't tell you how much, but it's a lot. You can see it in his suits," a Trump Advisor said.
The outlet also claimed that his signature spray tans have become a thing of the past, as he's reportedly swapped those out for natural UV from the Florida sun while hanging out at his Mar-A-Largo resort.
Trump gave a peek at that new look on September 2 when Republican politician Sean Parnell shared a snap on Twitter of himself and the former president giving the camera thumbs up. Trump seemed noticeably less orange as he flashed his pearly whites.
As for what his new look couple mean? Well, almost anything. Per Washington Examiner, his change up has sparked speculation on both sides of the 2024 re-election argument. Some have claimed Trump has got fitter to gear up for another attempt to return to the White House, while others have speculated he's looking better because he's more relaxed and doesn't plan to run again.
We'll just have to wait and see!
Source: Read Full Article