How Much Have Meghan And Harry Contributed To Charity?
Prince Harry and Meghan Markle are known to be extremely generous and charitable, both while they were working members of the royal family, and in the years that have followed. From Harry's Invictus Games Foundation to Meghan's work with World Vision, these are just two examples of the ways in which the Duke and Duchess of Sussex give back.
When Harry and Meghan tied the knot in 2018, they both seemed dedicated to helping others and making service a big part of their lives. In fact, back in March 2020 when the Duke and Duchess of Sussex announced their decision to step down as senior members of the royal family, they vowed to continue giving back and helping others. "As we all find the part we are to play in this global shift and changing of habits, we are focusing this new chapter to understand how we can best contribute. While you may not see us here, the work continues," reads the caption on their last Instagram post, in part.
Since then, Harry and Meghan founded the non-profit organization, Archewell. Through the foundation, the duke and duchess have joined forces with other organizations and companies in an effort to help those in need. Keep reading to find out more about Harry and Meghan's charitable efforts over the years, including the incredible move they just made to help homeless pregnant women.
Prince Harry and Meghan Markle helped supply diapers to mothers in need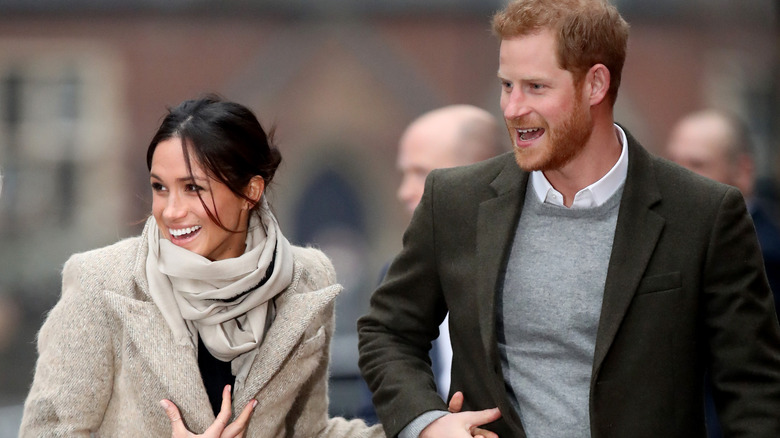 Prince Harry and Meghan Markle have been known to celebrate milestones in their lives by giving back — and encouraging others to do the same. In fact, the couple chose seven charities to help with funds that came in from their wedding, according to the royal family's official website. On their son Archie's birthday back in May, the couple donated 200 beanies to the "I Got Your Back Pack" initiative, according to People. When their daughter, Lilibet Diana, was born, the duke and duchess asked that anyone wishing to send gifts donate to "[an organization] working for women and girls," instead (via Archewell).
Archewell teamed up with Procter & Gamble back in May, and were able to help supply hundreds of diapers for mamas in need. On July 15, Harvest Home shared a photo of pallets of diapers, and credited the Duke and Duchess of Sussex with helping out with their latest campaign. "These diapers recently arrived at our new Pico-Robertson Home and we could not be more thankful to the Archewell Foundation, the Duke and Duchess of Sussex, and @proctergamble and @pampersus for the incredible donation through their Million Acts of Love Campaign. Thank you helping us ensure that our moms and babies have all they need in our homes!" the Instagram captions read, in part.
Prince Harry and Meghan Markle donated money to the Genesis Women's Shelter & Support in February 2021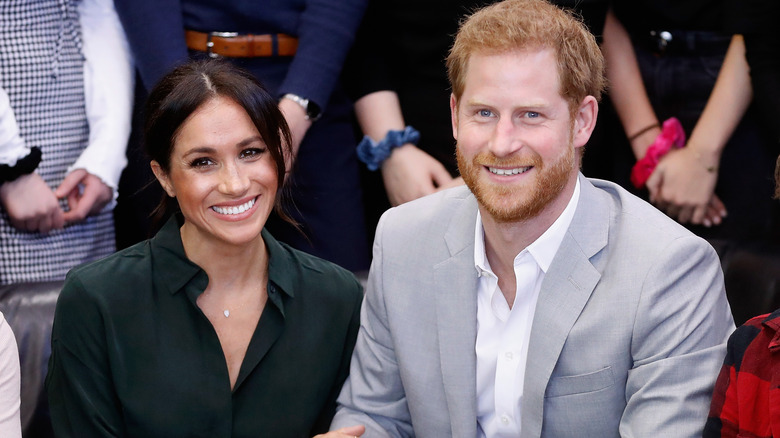 In February 2021, the Genesis Women's Shelter & Support received a generous donation from Prince Harry and Meghan Markle's Archewell foundation. The funds were sent over after some areas in Texas were hit with severe winter weather. The organizations CEO Jan Langbein couldn't disclose the amount of money received, but said that the "funds were significant enough to replace the roof on Annie's House, the organization's transitional housing apartment complex, and to help with other immediate needs such as staffing and other items not covered by insurance," according to Dallas News.
"The gift from Prince Harry and Meghan, the Duke and Duchess of Sussex, is literally going to put a roof back over the heads of the moms and children of Genesis. The thought of the literal meaning of that, and then the figurative meaning of that — that they care enough to put a roof over the heads of people who have none — just warms my heart," Langbein said in a statement, according to Dallas News.
And that's not all. According to Town & Country, the couple has also donated more than $100,000 to coronavirus relief efforts, specifically to Feeding Britain, an organization that helps provide hot meals to families in need across the UK. The duke and duchess will continue giving back as the years go on, as evidenced by the updates provided on the Archewell website.
Source: Read Full Article