Hugh Grant Pours Cold Water to Rumors About His Reason in Marrying Anna Eberstein
Making use of Twitter, the Jonathan Fraser of 'The Undoing' shares a screenshot of the most popular results for 'Hugh Grant's wife', with one stating they wed 'for passport reasons.'
AceShowbiz –Hugh Grant has shot down rumors suggesting he only married Swedish TV producer Anna Eberstein for "passport reasons."
The "Notting Hill" star recently discovered his personal life had become a top search topic on Google, and he decided to set the record straight.
Taking to Twitter on Thursday, June 17, the British actor shared a screenshot of the most popular results for the phrase, "Hugh Grant's wife", with one report stating the private couple had wed "for passport reasons."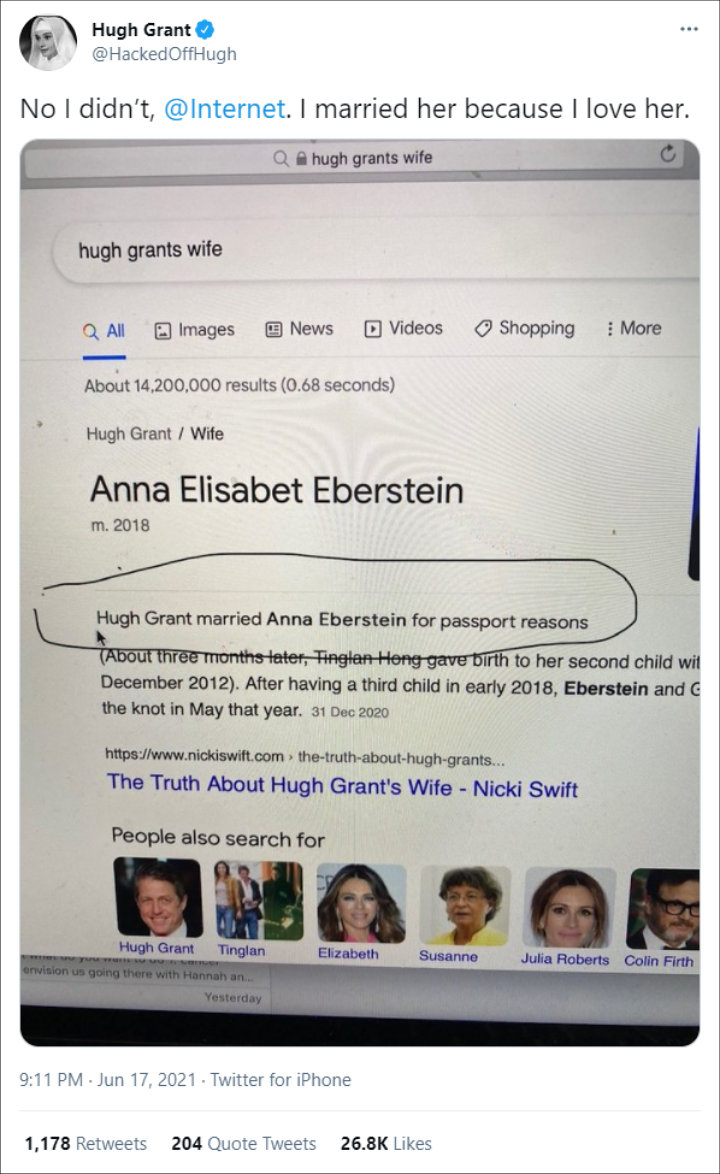 Hugh Grant set the record straight on reason why he married Anna Eberstein.
Responding to the claim, Grant wrote, "No I didn't, @Internet. I married her because I love her."
He and Eberstein became husband and wife in 2018. They are parents to three children, while Grant also shares two older kids with his ex, Tinglan Hong.
Speaking about parenthood, Grant admitted in 2020 that he found it exhausting at his age. "I did this job partly to get away from my young children as they are exhausting at my age," he confessed when chatting with TV host Graham Norton to promote "The Undoing".
"I thought it would be great to have a break but every time I arrived in New York I missed them so badly I was a mess, so every scene was suddenly a cue for tears for me," he went on sharing. "I'd even go into a cafe and ask for a cup of coffee and the tears would come!"
The 60-year-old actor further blamed age for him being more emotional. "Having spent a career unable to muster a single emotion, I find in my old age I can't stop them," he spilled. "It's something to do with children or love, or my wife, or something, but I can't keep it at bay."
Source: Read Full Article