Katie Thurston and Blake Moynes Are Having Discussions About Family Planning
Katie Thurston and Blake Moynes are officially having some Big Relationship Talks—including discussions about family planning.
On Saturday, Katie documented one of their family planning convos on her Instagram Story. Apparently, that plan is *not* going to include a vasectomy for Blake (at least not any time soon).
"Discussing vasectomies," she captioned a glimpse of a shirtless Blake looking very skeptically at the camera from across the room. "It's a no go for @blakemoynes."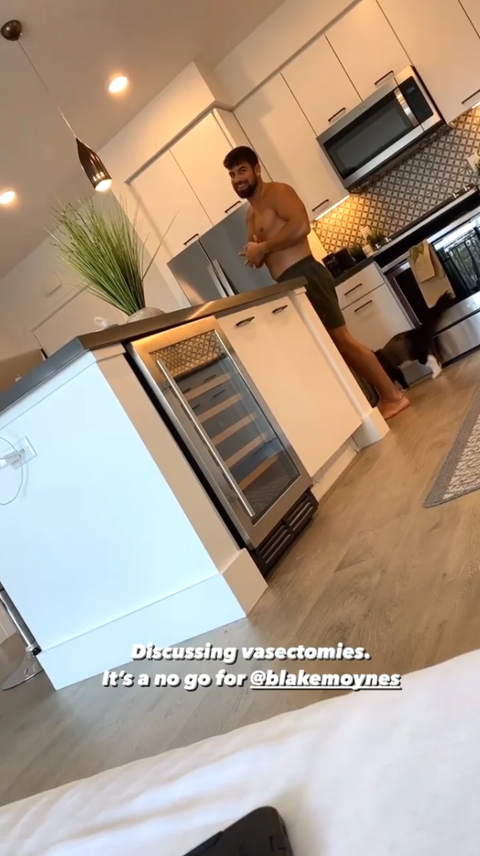 In a video clip, Blake made it clear that his interest in getting a vasectomy is hovering right around negative one thousand and that he's not into the idea of "a knife cutting me open for anything, let alone my d*ck," according to Us Weekly.
Talk of a vasectomy seems to suggest that Katie and Blake are leaning against having kids, at least biologically. In an August interview with People, Katie said they still weren't sure where they would land on the issue of growing their family and that they were open to several different options.
"We've talked about several scenarios," she explained. "Obviously, if we want to have kids, we can, but there's also adoption and also the idea of not having children."
At the time, Katie said the big picture state of the world was really important to her and Blake's decision-making process when it comes to starting a family.
"The world is kind of dying right now and we have to question: Do we want to bring kids into this or spend the remainder of our time and energy to try to make the earth a better place? We are really open to all options," she said.
Right now, Katie and Blake seem focused on more pressing issues in their relationship—like navigating an engagement as citizens of different countries. In August, Katie posted about the difficulties of a long-distance engagement and revealed that Blake, who is Canadian, is limited in how long he can stay in the U.S. at the moment.
"I don't think people fully understand what it's like to date someone from another country and the rules behind that and the visas behind that," Katie explained in an Instagram Story post in August, according to Us Weekly. "I think right now Blake can only be here for 60 days before having to go back to Canada, so we really do have a lot we have to look into—and we just haven't yet—before we can plan really anything else."
Soooo, Katie and Blake for 90 Day Fiancé?
Source: Read Full Article