Ross Lynch And Jaz Sinclair: The Truth About Their Relationship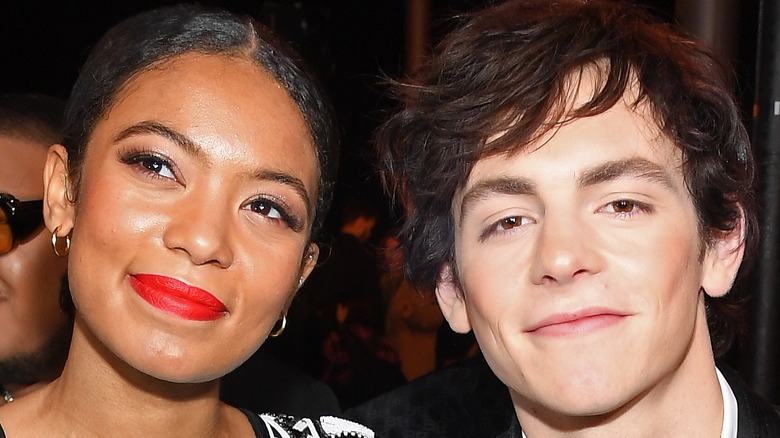 "Chilling Adventures of Sabrina" costars Ross Lynch and Jaz Sinclair have been spotted getting cozy on and off the set of their now-cancelled hit Netflix show (via Insider). On the "Sabrina the Teenage Witch" adaptation the pair portray boyfriend and girlfriend Harvey Kinkle and Rosalind "Roz" Walker. Since the series premiere of "CAOS," Lynch and Sinclair fans have speculated about the nature of the young actors' relationship. 
They reportedly met while filming the drama (via Elite Daily) and have since become integral parts of each other's lives. Early indicators that the duo are more than just friends began when Sinclair shared a photo on Instagram for Lynch's birthday in 2018 (via Insider). The "Paper Towns" star posted a shot hugging Lynch on top of a cliff with the caption, "Happy Birthday to my favorite. I'm really happy you were born. Here's to many more good chats, belly laughs, and dances in the new year." 
In early 2020, the "CAOS" stars posted a TikTok video of their preparation for the Balmain Menswear show at Paris Fashion Week on social media and they've been inseparable ever since (via Refinery29).
Ross Lynch and Jaz Sinclair's love is magnetic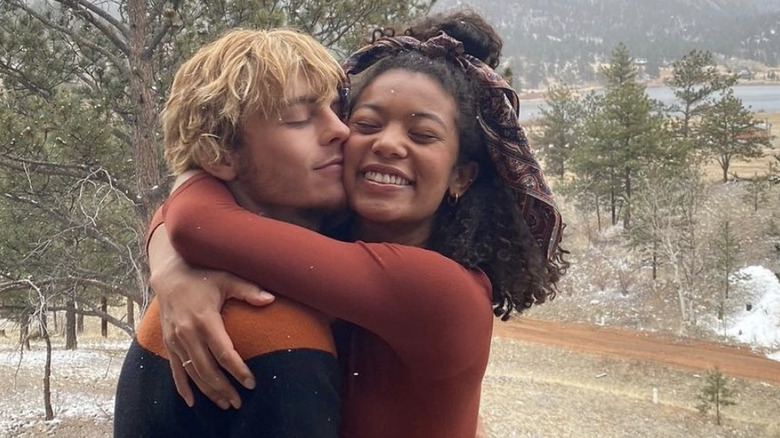 Jaz Sinclair and Ross Lynch have expressed their deep admiration for one another on social media. The young couple loves to go on adventures and share all of the joys of life with each other. In one particularly heartfelt Instagram post, Sinclair shared a series of photos of her travels with the "My Friend Dahmer" star. She captioned the sweet series, "I feel so loved, heard, and seen by you and it's a pleasure getting to have so much damn fun together everyday. You are such a bright spark in this world and I love getting to learn from you and shine with you."
In an interview with GQ, Ross Lynch opened up about his perspective on their romance. In a response to a faulty fan theory about "The Chilling Adventures of Sabrina," the actor explained the beginnings of his relationship with his co-star. Lynch said, "Jaz and I were hanging out on set. We met and quickly became the best of friends and the writers on the show saw that and they decided that they wanted to write for it because you can't really fake chemistry. It was pretty magnetic. We couldn't get enough of each other."
Source: Read Full Article