Where Does Hunter Biden Live And How Big Is His House?
Hunter Biden, the younger son of President Joe Biden, seems to have found the ideal rental home for his family as he builds a new career as an artist. He has moved around a bit with his wife and young son over the past few years, but over the summer they chose a new home that seems the perfect fit for this time in his life.
The president's second son grew up in Delaware, noted Business Insider, and attended Georgetown University in Washington, D.C. Hunter also attended Yale Law School in 1996 and raised his family in his hometown of Wilmington, Delaware. He had three children with his ex-wife, Kathleen Buhle: Naomi, Finnegan, and Maisy, and they have remained on the East Coast (per Elle). According to Business Insider, Hunter moved to California in 2018, and he currently lives there with his wife, Melissa Cohen, and their son, Beau. Fox News noted the trio lived in a $3.8 million home in the Hollywood Hills area for a while. The family moved to a rental in Venice in late 2020, shared Daily Mail, and moving vans were spotted there in June 2021. From there, Hunter, his wife, and young son seemingly moved to a more private area. Let's take a look inside the gorgeous home. 
Hunter Biden chose a quiet, stunning Malibu rental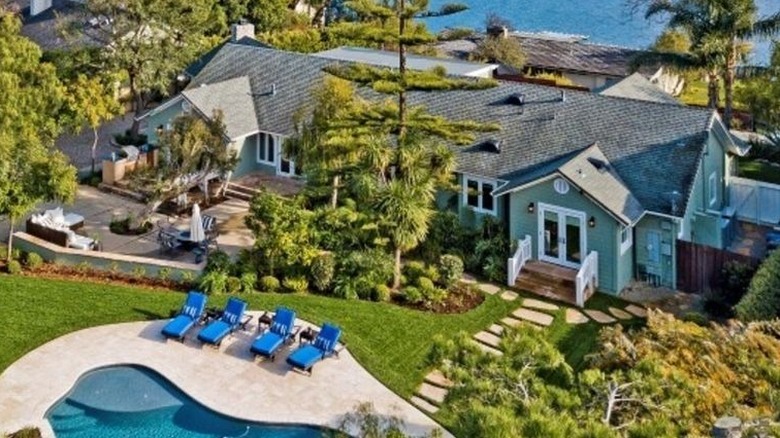 In July 2021, TMZ revealed Hunter Biden had moved to a gorgeous rental home in Malibu, California. The house is said to be located just a mile from the ocean and costs Biden $20,000 a month in rent. It is 3,000-square-feet and has 4 bedrooms along with 2.5 bathrooms, and reportedly sold for $3.34 million in 2019. The media outlet was told the Biden family moved to the home several months ago, but they managed to keep the details under the radar for a while. The desire to move was said to be due to the lack of privacy the family had in Venice.
Luxury Launches noted the home was designed with an open floor plan. The house provides jaw-dropping 180-degree views of the Pacific Ocean and sits on a 0.7-acre lot. There is an indoor-outdoor living room that contains a gorgeous floor-to-ceiling stone fireplace, and outside there's a pool, hot tub, and stone patio featuring a built-in barbecue. Oak flooring is incorporated throughout the home and the floor plan is designed to let in lots of natural light. The property is beautifully landscaped and provides a sense of privacy along with gorgeous views of the area. There is a converted detached garage that has perhaps turned into one of Biden's favorite spots on the property: an art studio.
The peaceful location likely inspires Hunter Biden's art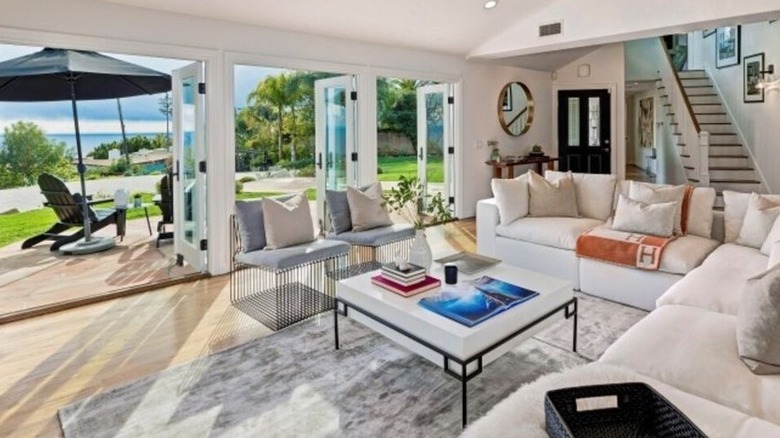 Artnet noted Hunter Biden's home in Malibu, California features a converted garage that he uses as an art studio. The three-car garage has a skylight as well as a brick floor and has seemingly provided the perfect space for Biden to embrace and explore his passion for creating art. He's said to typically awaken at 5 a.m. each morning, before his son wakes up, to grab a cup of coffee. He then heads right to the studio and starts creating with a canvas laid on a horizontal table.
At one point, Biden told The New York Times that painting "is literally keeping me sane" He added, "For years I wouldn't call myself an artist. Now I feel comfortable saying it." While he started creating art as a child when he was just 7-years-old, he never pursued formal training. Despite that, "It's something I've taken seriously for a long time but hasn't necessarily been for public consumption," he explained. NPR detailed that Biden's artwork was slated to be shown in Los Angeles during an invitation-only September 2021 event, and would be hosted at the New York City Georges Bergès Gallery in October. Biden's Malibu art studio and peaceful property seem the perfect spot for him to continue to build his career as an artist.
Source: Read Full Article