5 Expensive Sneaker Brands That Are Worth It (& 5 That Aren't)
Sneaker enthusiasts can choose from a wide range of kicks to elevate and complement any outfit: from streamlined running sneakers intelligently designed to enhance their wearer's speed to chunky statement sneakers in a variety of colors, to 90s inspired high-tops to futuristic kicks! And, small, artisan sneaker brands and high-fashion powerhouses alike are jumping on the sneaker frenzy!
Related: 10 Most Expensive Sneakers In The World
However, not all sneakers are created equal (even if they're all made of high-quality, luxury materials). Some luxury sneaker brands have continued to innovate and produced sneaks that have garnered rave reviews from wearers; however, other sneaker brands have failed to produce quality shoes. Scroll down to see 5 sneaker brands that are worth it and 5 that aren't!
Click the button below to start this article in quick view
10 Worth It: Gucci
When you see those green, red, white stripes, there's only one brand that comes to mind: Gucci. This high-fashion Italian powerhouse has never ceased to produce quality items that simultaneously follow trends and create them. Their sneakers are no exception. Gucci's sneakers come in a variety of designs–from white leather emblazoned with their exquisite signature snakes, to the chunky all-white "dad" shoe, to extravagant all-gold designs. The shoes deliver, too. Gucci's also known for their flawless construction and high-quality materials. Of course, you pay up. Their most expensive shoe is this lush sneaker with contrasting colors and crystals for $1,590
9 Not Worth It: Strength Shoes
OK–the Strength Shoe's aren't meant to be worn on catwalks or sidewalks alongside high fashion sneakers. And, with its strange sneaker-upside-down-UFO combo, that's certainly a relief. The Strength Shoe is supposed to help its users build up calf-strength by forcing them to put their weight on their toes. However, the bad news is that, according to most sources, Strength Shoes just don't work as advertised. Any benefit you get comes from the exercises you do and not the Strength Shoe's strange anatomy. At $113, a pair of Strength Shoes cost a fraction of some other shoes on this list, but, basically, you're paying over a hundred bucks for nothing but a pair of pretty funny looking shoes.
8 Worth It: Off-White
Off-White's signature street-wear sneakers are super trendy and have attracted the attention of high-fashion sneaker aficionados and hype-beasts alike. In a playful twist, Off-White includes typically removed utilitarian gear on its shoes– zip-ties, labels and tags–and transforms these hidden parts into a recognizable signature look. Their most expensive offering are these $925 hiker boots.
7 Not Worth It: Big Baller Brand
Big Baller is known for its extravagant prices ($495 for one pair of sneakers!) and owner and former-football-plat LaVar Ball's refusal to lower prices because "If you can't afford the ZO2'S, you're NOT a BIG BALLER!" Ultimately, Big Baller Brand did end up making its shoes cheaper. However, Big Baller Brand's reputation hasn't bounced back. Customers routinely wait long periods of time to receive their shoes, suffer incorrect orders, and can't get ahold of customer service. Suffice to say, your $495 is better spent somewhere else.
6 Worth It: Golden Goose Deluxe Brand
Like the worn-in look? You can recognize a Golden Goose by its pre-dirtied look, complete with smudges of dirt and sometimes even duct tape! While this rough and tumble vibe certainly isn't for every sneaker head (and neither is the Golden Goose price tag).
Related: 10 Most Affordable Celebrity Clothing Lines
Golden Goose has garnered some pretty fantastic reviews and their Italian made kicks have a reputation for high-quality and comfort. Plus, if you get them a little bit dirty, nobody will be the wiser! Their most expensive pair (Running Sole sneakers in leather with crystal beads) runs for a whopping $1,322.
5 Not Worth It: Air Jordan XII 'Wings'
Air Jordans have pumped out some gorgeous shoes, and their collaborations have produced some unbeatable kicks. However, their hotly anticipated Air Jordan XII 'Wings' don't make the cut. With a limited release and a price of $225 (one of the lowest price points on this list!), Jordan-enthusiasts quickly snapped up these black and gold shoes, and later resold them for well above their selling point. While reviewers praised the shoes' elegant aesthetics, they dragged the shoddy construction and poor quality leather.
4 Worth It: Feit
While you might have heard of high-fashion powerhouses Gucci and Balenciaga, and maybe even seen their signature kicks on the street, you might not immediately recognize a pair of Feits. These understated sneakers come exclusively in refined monochromatic colors schemes. But, with gorgeous hand-sewn details, super-upscale materials, and actual functionality (you can wear many of their sneakers on all terrains), each pair of Feit's oozes luxury and has unbeatable artistry. Of course, they also come with a hefty price tag. This pair of cream, blush pink, and light brown Feit's will cost you $650 (but just look at that hand-stitching!)
3 Not Worth It: Balenciaga
Balenciaga's trendy, super-chunky sneakers have found homes in the closets of sneaker heads, hype beasts, and supermodels alike. Balenciaga continually innovates to produce even trendier sneakers in season's hottest colors that gracefully toe the line between ugly and the height of fashion.
Related: The 10 Most Expensive Pairs Of Bejeweled Shoes In The World
However, while Balenciaga might be hip, their signature Triple S Sneakers get continuously low ratings. Their most expensive offering is a pair of neon pink Triple S Sole sneakers for $995.
2 Worth It: Hender Scheme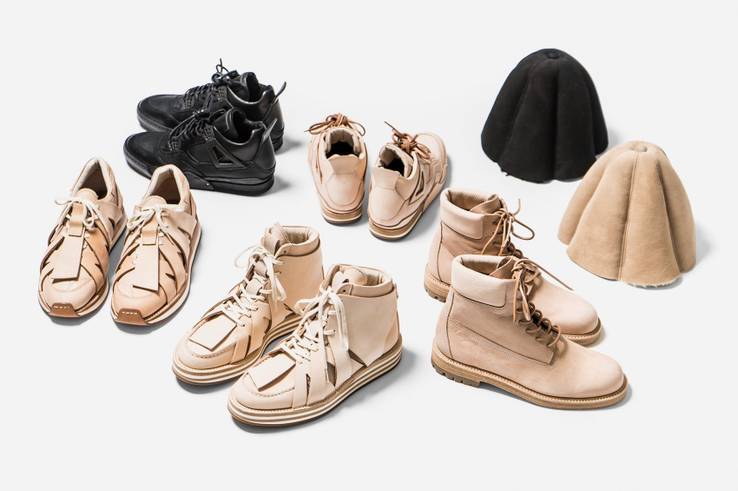 Head designer and owner Ryo Kashiwazaki combines traditional Japanese shokunin practices with unmistakable silhouettes, contemporary street-wear styles, and '90s inspiration. The result is these far-from-generic game-changers. Stunning, fashion-forward, un-branded and undeniably chic, these kicks are full of meticulous detail and build to last. Hender Scheme doesn't skimp when it comes to quality. Their shoes are handcrafted in Japan and use premium undyed leather, or high-quality black leather for their soles and laces. Of course, they don't come cheap. This pair of running-shoes-inspired low tops cost a cool $1,090. Luckily, its neutral blush color means that you can fit these pricy sneaks into pretty much every outfit.
1 Not Worth It: Nike Mag 2016 (Auto-Lacing)
The auto-lacing feature on these Nike Mag's and their neon blue coloring might make them look like something from the space age. However, these sneakers have landed themselves on this list because, at their outrageous price tag of $26,000. It's worth mentioning, though, that Nike teamed up with the Michael J. Fox to produce these shoes. Profit went to The Michael J. Fox Foundation for Parkinson's Research.
Next: 10 Most Expensive Nike Shoes Of 2019
Source: Read Full Article