Your Post-Pandemic Guide to Shopping
What's that we detect in the air? Is that… optimism? Dare we say… hope? Why yes— as vaccines make their way into Americans' arms and data shows COVID's spread is beginning to ebb, there's a palpable sense that we're starting to get a glimpse at a post-pandemic future. Economists have even gone so far as to predict a second roaring twenties is beginning, where formerly housebound citizens will thunder back into restaurants, theaters, and shops in droves when it's safe to do so. Moreover, some are already seeing a post-pandemic shopping frenzy starting to take hold—that is, fashion aficionados itching to use all that saved money and pent-up energy to shop for a summer and fall chocked full of safe-but-social events.
But wait! Before you close the computer screen, toss the mask, and run to the closest mall, we've got some words of wisdom for you: COVID didn't magically disappear overnight, and we're emerging into a very different world than the one we left.
"Customers who feel comfortable with the full shopping experience can mentally prepare and realize things won't be completely the same as they were before the pandemic," says Blake Morgan, a customer experience futurist, bestselling author, and speaker. So check on local health guidelines before heading out the door, keep a mask handy, familiarize yourself with new ways of payment (QR codes are the new credit card swipe!), and get ready to re-emerge into the world with confidence.
Take Advantage of Low Traffic Hours
The good news about returning to stores post-pandemic is there are now new tools to help you avoid the crowds. Many mass retailers now share real-time store traffic data, so you can pick the best time to shop—just hit up your search engine before you head out the door. If the pandemic has left you with some residual anxiety about in-store shopping, consider timing your visit during low-traffic hours. With many people able to work from home, now is the perfect time to carve out an hour of mid-day shopping during the workweek when there may be fewer lines and better parking spaces.
Enjoy All the New Efficiencies
With health and hygiene considerations now at the forefront of the shopping experience, a trip to the store has become more efficient than ever. "Customers have the power to choose how they want to shop and to do so in a way that makes them feel safe," notes Morgan. Nowadays, many stores have started to offer touch-free payment in-stores using QR codes to make the checkout process more efficient. PayPal and Venmo have powered some of these transactions at hundreds of thousands of merchants that range from your local CVS Pharmacy to small businesses. For retailers like CVS that accept QR codes at checkout, just open your PayPal or Venmo app, tap "Show to Pay" from the "Scan" screen and show your code to the cashier to scan. The technology runs through encrypted technology to help safeguard your personal data. Less contact with dirty cash or keypads and a fast, secure checkout process is a win-win in our book.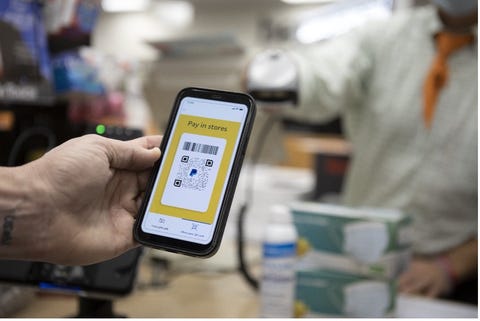 Read the Fine Print
If you're looking to buy new (non-elastic waistband) pants because either a) you gained the "COVID 19" or b) you are now ripped thanks to your workout regimen, finding clothes that actually fit may not be as easy as you remember. Many retailers have changed their fitting room and return policies (sometimes for the better, with longer return windows and more flexibility), so be sure to do some research before you make a big investment on your return-to-office-style. "The most important rule for shoppers is to know before you go," says Morgan.
Wear a Mask. Yes, Still.
Despite the fact that vaccines are being widely distributed in the U.S., we're not yet at the place where we can toss those masks out. Being indoors near other people still requires a degree of precaution, and wearing a mask has time and again been proven to help stop the spread of COVID. So, if you're in an enclosed store space and coming into close contact with other people, you'd be well-advised to wear a mask even if it's not mandated.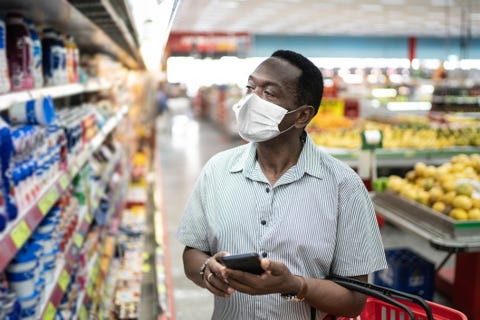 Consider Shopping Online First
The sense of discovery is one of the best things about shopping—finding that unexpected thing you never knew you needed—but right now, it may be wise to do a little pre-browsing online first. Most retail businesses have quickly adapted in light of COVID-19 and have more robust browsing capabilities than they may have had a year ago. Even more than that, many stores allow you to buy online and pick up in-store (or even drive-up or upfront), which helps minimize risk and also creates a streamlined, quick in-and-out experience.
We've had a really weird year, and things have changed a lot. But if there's one silver lining, it's that many brands have risen to the occasion so you can return to shopping safely and confidently. When you choose to go back to in-person shopping, these easy tips can give you that added peace of mind.
Read up on PayPal and Venmo QR Codes here .
Source: Read Full Article