The Heartbreaking Death Of Champ Biden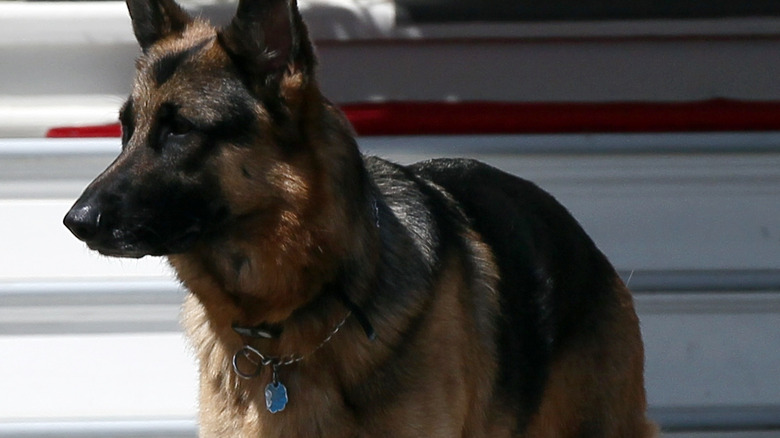 The White House is mourning the death of one of its most loyal members. In a statement released via social media on June 19, President Biden announced, "Our hearts are heavy today as we let you all know that our beloved German Shepherd, Champ, passed away peacefully at home."
The 13-year-old first pet had been a part of the family's lives and hearts since 2009, when then-Vice President Biden joined the Obama administration. As the president noted, Champ was frequently found running after golf balls on the Naval Observatory lawn, and loved romping with the Biden grandchildren at the family's home in Delaware. He became less active in his old age, yet he remained loving and attentive to the end. "Even as Champ's strength waned in his last months, when we came into a room, he would immediately pull himself up, his tail always wagging, and nuzzle us for an ear scratch or a belly rub," Biden wrote. 
Champ got his name from a childhood nickname bestowed on the president by his father, who used to tell him, "Get up, champ!" in the face of any setbacks (via The Washington Post).
Champ Biden was a source of love and comfort to the first family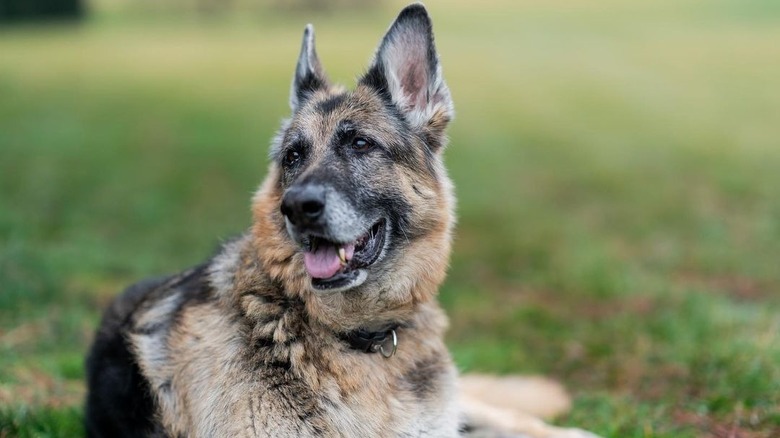 The Bidens are lifelong animal lovers, and the president has always had a fondness for this particular breed. As a law student, he owned a German Shepherd named Senator, whom he showed in dog obedience trials. Champ was the result of a promise first lady Dr. Jill Biden gave to her husband when he was Obama's running mate: If they won the election, they would get a dog (via The Washington Post). The family bought the pup from a Pennsylvania breeder; 10 years later, they decided Champ needed a companion, so they adopted Major in 2018 from a shelter.
The senior dog was faithful to the end, happiest when he could sit by his people at meetings or by the fireside. "In our most joyful moments and in our most grief-stricken days, he was there with us, sensitive to our every unspoken feeling and emotion," the family wrote. "We love our sweet, good boy and will miss him always."
The sad announcement immediately trended on social media, and thousands sent their condolences to the family. An unofficial Instagram page devoted to Champ and Major conveyed a message from Major that included a mention of the Obamas' dog Bo, who also crossed the Rainbow Bridge recently. "My brother Champ has joined Bo in doggie heaven. I will love you forever."
Source: Read Full Article