England 2-1 Scotland: Phil Neville says Lionesses 'long way' from winning World Cup
Media playback is not supported on this device
England head coach Phil Neville said his team have a "long way to go until we start talking about winning the World Cup" after they began their campaign with a 2-1 win over Scotland.
England led through Nikita Parris and Ellen White goals but a sluggish second-half display saw an improved Scotland score through Claire Emslie.
Neville spoke to his players animatedly after the final whistle in Nice.
"We set standards and the players have to keep meeting them," said Neville.
"We cannot drop below those standards. We have to keep being ruthless. It taught us that every game is going to be hard but I was pleased with the result."
England open World Cup campaign with hard-fought win
Football Daily podcast: England win but is anyone happy?
Kerr laments 'harsh' penalty decision
On the eve of the tournament, the former Manchester United defender had said England should be "brave enough" to accept criticism if they don't achieve their goal of winning the World Cup.
But he seemed less bullish about his side's chances following their opening Group D game.
"There's a long way to go to start talking about winning the World Cup," said Neville.
"We said last week we are going to give it our best shot. If we play to our potential, then we have a great chance of progressing in the tournament but it's the first game and that is always the hardest one.
'Am I buzzing about England's performance? No' – pundits' analysis
How the players rated in England v Scotland
As it happened: England 2-1 Scotland
Media playback is not supported on this device
"There should be no fear. They are a good set of players with good quality and when I see how they play like they did for the first 60 minutes we are a good team which will progress in the competition. But if we drop our levels it will be tougher.
"We want to be here for the next 27 days. I'm the biggest problem, I have to keep delivering those standards. It starts with me, we should have done better.
"It's good to get the first game out of the way. It's always an emotional game playing Scotland, the build-up and expectation in England, but the overriding feeling was it was an unbelievable occasion. We loved every single minute of it, the players were raving about it. Everyone has to be proud that we took part in something special."
England captain Steph Houghton, whose sloppy pass led to Scotland's goal, echoed Neville's sentiments, saying: "We need to be better, the girls know that, but for us it's not about peaking at this moment in time. Hopefully we've got a lot of games to go and we've got to make sure everybody's fit and fresh, and ready to go.
"Now we need to complete the performance because the second half wasn't up to our standards. At the same time, we'd have taken that result because there's been so much build-up about this game, with it being against Scotland as well."
Lyon forward Parris opened the scoring from the spot after a VAR review adjudged Nicola Docherty to have handled the ball in the area before White doubled their lead with a confident finish.
Media playback is not supported on this device
But in the second half Scotland grew in stature as England appeared to tire and were rewarded for their extended period of pressure when Emslie fired home after a defensive error from Houghton.
Scotland head coach Shelley Kerr said her side could "take lots of positives" from their World Cup debut despite the fact it ended in defeat.
"England are tipped to win the tournament and we ran them close," she said.
"I have to give England credit, they put us under pressure and played with intensity in the first half. Second half, we showed what we are capable of.
"What I want to do is applaud the players for their second-half performance. We know we have to win one game in the group, it didn't have to be the first game."
Scotland and Chelsea midfielder Erin Cuthbert added: "The strides we've taken from the last time we played England and lost 6-0 [at the 2017 Euros] to now are absolutely massive. We have to take that going forward and by no means is this group over."
England face Argentina in Le Havre on Friday (20:00 BST) and Scotland's next Group D game sees them take on Japan in Rennes the same day (14:00).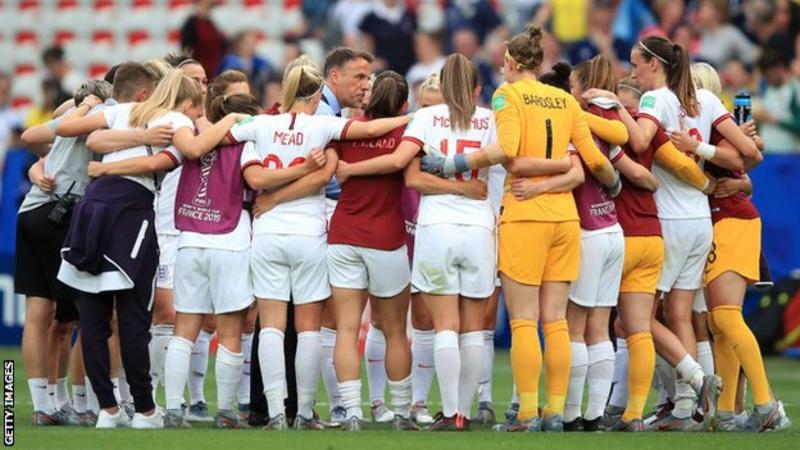 Source: Read Full Article