'America's Got Talent' Season 17 Premiere Recap, Episode 1, 'Auditions' And That Golden Buzzer Moment
America's Got Talent's Season 17 judges were blown away by "the most wonderful moments" in a two-hour season premiere on NBC. Simon Cowell, Howie Mandel, Sofia Vergara, and Heidi Klum sat at the 2022 judges' table. Meanwhile, Terry Crews returned as the host while acts battled for $1 million and a headline show in Las Vegas. Find every complete video audition and a breakdown of each act from America's Got Talent Season 17 premiere on May 31, 2022.
'America's Got Talent' Season 17 Premiere opens with The Pack Drumline
The Pack Drumline began from an at-risk after-school program in Chicago, Illinois. It started as "bucket drums and PVC pipes." Terry Crew jammed out to their beat in a hot pink suit in America's Got Talent Season 17 premiere. Simon gave a tiny half-smile, and Howie thoroughly enjoyed himself. Sofia and Heidi both loved the choreography and total performance. All four judges gave The Pack Drumline a yes.
JoJo Siwa and Jessalyn Siwa debut their girl group XOMG Pop
XOMG POP is a girl group created by JoJo Siwa and her mother, Jessalyn Siwa. With bright, vibrant outfits, (hopefully not purchased by the contestants, but the Siwas), the girls sang and danced to an original song, "Candy Hearts." Howie felt it was an excellent performance for young girls. Even Simon loved the energy and enthusiasm. They moved on with four yesses. 
Magician Mervant combines magic with music
Mervant from Philadelphia, Pennsylvania, performed magic with a deck of cards combined with rapping that wowed the audience. He also got pushed through with four votes of yes from the judges.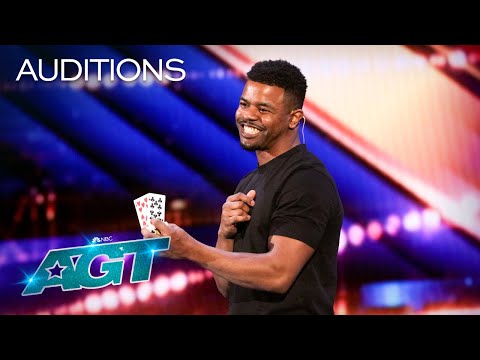 'America's Got Talent' Season 17 Premiere: Musician Lee Collinson
Lee Collinson from England is a fencer by day, but his dream is to be a musician. He sings "Better Days" because he feels everyone needs better days in the future. Lee gets a standing ovation from the audience. Then Howie calls Lee's Mom, Sherry, and the judges tell her what a wonderful job he did. They keep her on the phone to announce his four votes of yes.
'America's Got Talent Season 17 auditions who didn't make it through
David Lynchman brought his mini horse, Pappino, with little converse shoes to sit on a chair. Then he brought the horse to jump through a hoop, but Pappino ran away. Next, Joe dedicated a song to his wife, "Close Your Eyes." However, he also set himself on fire. Another act set goats and alpacas loose on stage, which Heidi and Sofia tried to steal. Jack Brady from Cleveland, Ohio, did a magic trick that ended with a wine bottle hanging from his butt.
'America's Got Talent' Season 17 Premiere: Ben Lapidus, 'Parmesan'
Ben Lapidus is a sound designer for podcasts by day but wants to be a professional singer-songwriter. He sings a hysterical original song about parmesan cheese, to which all four judges eventually give an "X" to. After the audience chants, he plays a few more lines, "Parmesan." After hearing the audience, Simon, Heidi, and Sofia change their votes to "Yes."
'America's Got Talent' Season 17 Premiere: Ventriloquist Celia Munoz leaves judges speechless
Trained Opera singer Celia Munoz, from Spain, was inspired by Terry Fator to become a ventriloquist. She switched her profession two years ago and shocked America's Got Talent Season 17 premiere audience with how she sang without moving her mouth. She flosses, brushes her teeth, and then picks up a phone call. After the unbelievable performance, all four judges stand up with the audience. They loved the twist of varied items coming out of her ventriloquist box instead of puppets. She quickly moves through to the next round.
Amazing Veranica and the five poodles from Oxford, Florida, wow the judges
12-year-old Veranica from Oxford, Florida, brought five pups on stage. They performed adorable tricks to "Butter" by BTS, including jumping rope. They somehow rode scooters in their overalls and changed outfits. The judges stand again for the five pups and explain their shock over how original the performance was. All four agree she and the poodles move through to the next round.
Comedian Mikee Winfield makes everyone laugh
When the comedian Mikee Winfield walks on stage, he immediately makes the audience laugh. The best part came when he talked about his grocery store job in the self-checkout line. He described the customers stealing items from the store, and the audience cracked up. Mikey scored four yesses.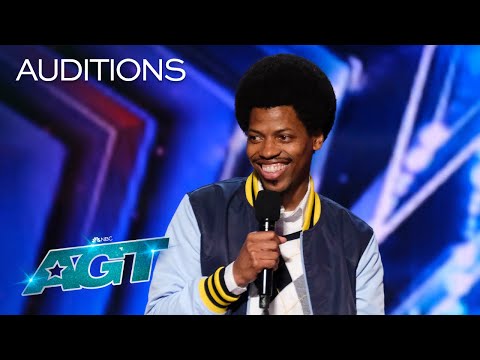 'America's Got Talent' Season 17 Premiere: Yo-Yo artist and dancer Shutakeda
Simon warns that yo-yo acts are boring before Shutakeda dances, flips, and wows the crowd, sending yo-yos in every direction. He dances to "Hit the Road Jack" and even shocks Simon. All four judges find the performance incredible and send him on to the next round.
America's Got Talent Golden Buzzer: Avery Dixon
21-year-old Avery Dixon gives a moving saxophone performance after telling a story about being bullied as a child. He also recalls a neighbor calling the cops on him for playing his saxophone too loudly. His performance was perfectly placed as the last act of the night. He blew away the judges and the audience with his incredible stage presence and talent. Terry Crews walked up to the judges and pressed the golden buzzer for Avery, prompting tears from everyone.
America's Got Talent Season 17 returns every Tuesday at 8 p.m. on NBC this summer.
Source: Read Full Article