How Did Erika Vu Die in 'Boo, Bitch'? The Netflix Series Ending, Explained
*SPOILERS FOR Boo, Bitch BELOW!*
Even if you've only seen the trailer for Netflix's latest miniseries, Boo, Bitch, you already know one thing: Erika Vu is dead but somehow still on Earth. That's because she has some ~unfinished business~ to complete before she can officially pass to the other side. But you might be wondering, well, just how did Erika die? This is where things get complicated, especially as you watch more episodes of the show. What do we know about Erika Vu's death? The truth might actually surprise you.
Here's everything we know about how Lana Condor's character Erika Vu died in Boo, Bitch.
How did Erika die in Boo, Bitch?
As we learn in episode 1, Erika's body is under a moose. We later find out that happened due to a car crash, but everything quickly changes at the end of episode 6 when it's revealed that Erika is actually not dead; It's Gia (played by Zoe Margaret Colletti) who died the night of the party and whose body they found.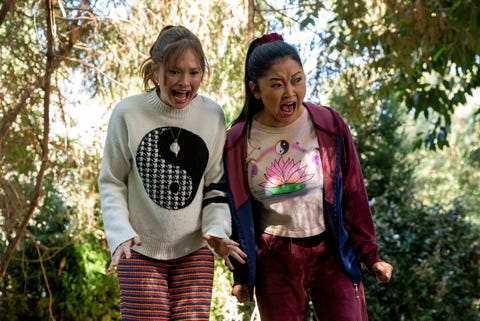 Wait, Erika is not dead??

Nope. Gia explains everything in episode 7 after Erika discovers who really is under the moose. While walking back home from a party, a car was heading down the highway and about the crash into the moose that was in front of them. Gia pushed Erika out of the way, knocking her own but also dying in the process when the moose hit her.
Before she pushed Gia, Erika got her BFF's necklace and switched their shoes in her ghost form to make it seem like Erika was the one that died. She then lied to Erika, saying she was the one who died because she wanted a shot at living live her life to the fullest before "passing on."
If Erika is not dead, then what is Gia doing?
Other than trying to help her friend out, Gia is also realizing she cannot pass on without completing her unfinished business. She can still send texts and also write stuff in the real world, so she starts to pull strings to prevent anyone from questioning why she's missing yet.
Erika later finds out that no one else can see Gia except for her and Gavin. Erika realizes part of Gia's unfinished is going to prom with Gavin, and the two try to convince her to attend though they're unable to find her in time. They still make it out there anyway, with Gavin later revealing he went back to see her again and realized her dress was missing.
After prom king and queen are announced, Erika jumps on stage and reminds everyone about Gia and points out that none of them noticed that she has been dead this entire time. She asks that they honor her memory by making her honorary prom queen. Gia is officially able to pass on after she's finally known among her classmates and everyone receives a text with a picture of her as she fades away.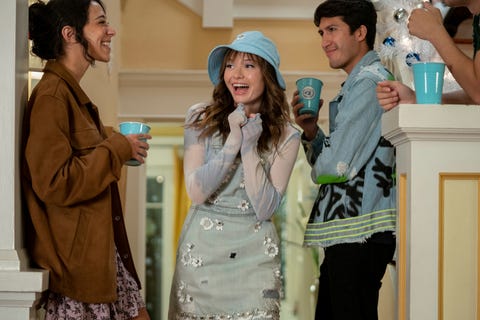 So, is Gia dead now?
Yep, with her UFB officially finished, Gia is finally able to pass on. But at least everyone knows who she is now! Unfortunately, this is only a miniseries so we won't see what happens to Erika and everyone else next. But wow, what a plot twist!
Source: Read Full Article