The Real-Life Partners Of The Cast Of Clarice
Psychological crime drama "Clarice" has just finished up its first season on CBS. The TV series, which was written by Jenny Lumet and Alex Kurtzman, is based on Thomas Harris' novel "The Silence of the Lambs" and the 1991 film adaptation of the same name.
"Clarice" centers on rookie FBI agent Clarice Starling, played by Rebecca Breeds. The series begins in 1993 a year after the event of "The Silence of the Lambs" in which Clarice took down the deranged serial killer Buffalo Bill (Simon Northwood). However, the show's opening scene revealed Clarice is still reeling from the experience and is now in federally mandated therapy to treat her PTSD. United States Attorney General Ruth Martin soon calls her back into action, though, which sends Clarice down the path of grizzly murders and dark conspiracies.
This psychological drama is packed full of action and suspense, and the episodes do not exactly leave much time for healthy and heartwarming romances. Not to worry though, for there is plenty of romance happening off-screen. Some of the series' stars, such as Kal Penn, appear to be single, but several are in longterm relationships. Read on to find out which members of the cast of "Clarice" are coupled-up in real life.
Rebecca Breeds is married to a fellow actor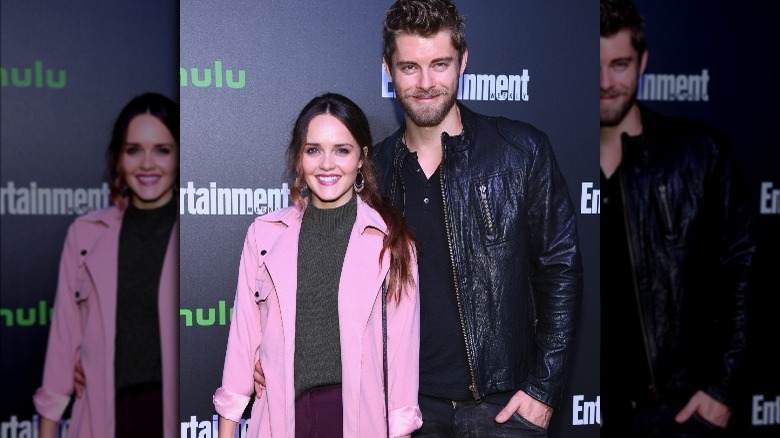 Rebecca Breeds plays the show's titular character, FBI Agent Clarice Starling. In "The Silence of the Lambs," Clarice had a complicated "quid pro quo" relationship with her pseudo-therapist Dr. Hannibal Lector, as noted by ScreenRant. But as the outlet also pointed out, the character of Hannibal legally can't appear or be mentioned in "Clarice," which means he is almost completely skipped over, bar a brief comment by Clarice about her previous therapist who "ate his patients."
In the real world, Rebecca Breeds' love life is far less complicated and dark that Clarice's. Off-screen she is married to fellow actor Luke Mitchell. The Australian couple met while starring in the soap "Home and Away" where they played on-screen love interests, Ruby Buckton and Todd "Romeo" Smith, per Now To Love. They married in 2013, and the pair moved to the US where Mitchell bagged roles in sci-fi shows "The Tomorrow People" and "Agents of S.H.I.E.L.D."
As dedicated actors, Breeds and Mitchell often live apart from each other. "My schedule is so intense, I wouldn't be fun to live with right now," Breeds told Now To Love. While she was filming "Clarice" in Toronto, her husband was filming "The Republic of Sarah" in Montreal. "I'm really happy Luke is also off doing his own adventure, so that when we are together, we can really make the most of it," Breeds added. The pair love sharing snapshots of their reunions on social media too — and they usually always include their Cockapoo Alfie.
Lucca De Oliveira quarantined with his partner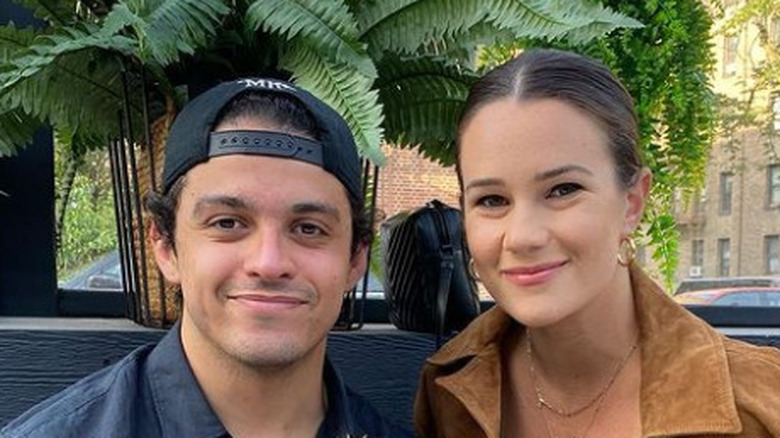 New Yorker Lucca De Oliveira is best known for playing Donny Chavez in Netflix/Marvel series "The Punisher" in 2017. In March 2020 Variety announced De Oliveira was joining the cast of "Clarice" as the combat sniper Tomas Esquivel. "There's a lot about Esquivel that I can relate to," the actor told CBR the following year. "Things like responsibility, loyalty, respect, care and compassion are all things I, personally, try to stay true to in my own life. The parallels I've discovered with him are really fun to play," added De Oliveira.
Off-screen, De Oliveira is dating dancer Amanda Mitchell. The Florida native runs her own fitness dance studio and is currently involved in "The Bachelor Live on Stage." Mitchell frequently shares snaps of the couple on social media. "My little family," she wrote on Instagram alongside a shot with De Oliveira and their dog Mojo.
The pair spent six months quarantining together in 2020. "We have never been able to be in the same place for this long and it has been such a blessing to be able to spend this time together. I love you with my whole heart and I am so crazy proud of you Lucca!" Mitchell wrote on Instagram when De Oliveira left their Los Angeles home to film "Clarice" in Toronto. "Me and Mojo will hold down the fort while you're gone! Shine bright baby!" 
Michael Cudlitz has been married for decades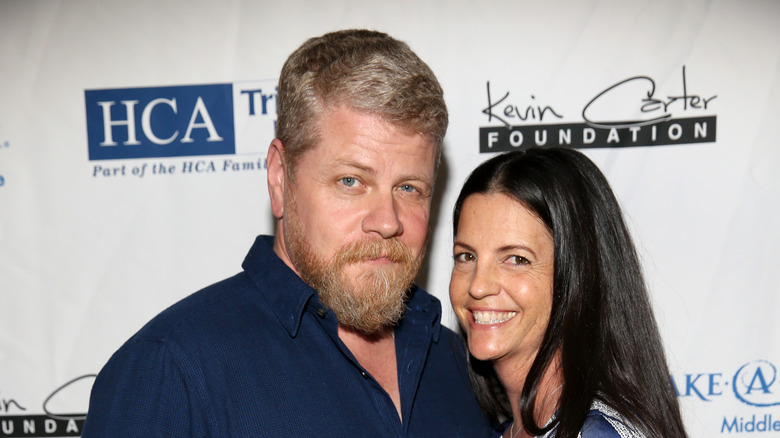 In "Clarice," Michael Cudlitz plays Clarice's boss and the ViCAP team leader Paul Krendler. In real life, he is married to former actor Rachel Cudlitz, whom he met while they were both studying at California Institute of the Arts. It's unclear in exactly which year the couple met or tied the knot, however, Michael graduated in 1990 (per CalArts) which suggests that the pair have been together since the late eighties. They are parents to twins Max and Isabelle.
Early in his career, Michael scored a guest role on "Beverly Hills, 90210" as Tony Miller, appearing in 11 episodes between the second and fourth seasons of the show. Rachel followed suit with a small appearance on the show in 1996. Her only other acting credits include guest roles are an episode of "ER" in 1995 and the feature film "Following the B*tch," the latter of which featured her husband in a starring role.
The actor and director has gone on to star in "The Walking Dead," "Southland," and "Band of Brothers," but told  Collider that he couldn't do it without his wife, who he referred to as his "litmus test" for scripts and new projects. After reading the "Clarice" script, Cudlitz said, "I fell in love with it. I asked my wife to double check … She was like, 'This is really terrific.' From that moment, I was in."
Nick Sandow has a quiet family life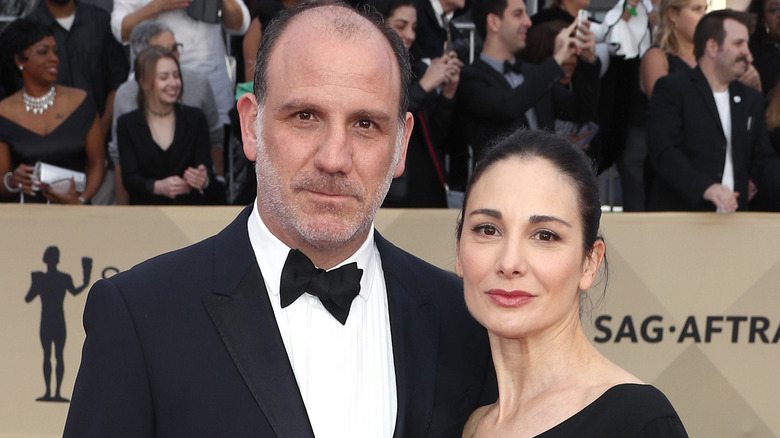 Actor and director Nick Sandow plays Murray Clarke in "Clarice." Though his on-screen life is full of drama, behind-the-scenes Sandow lives a very quiet family life with his partner Tamara Malkin-Stuart and their sons, Sterling and Sasha.
As an artist-turned-actor, Malkin-Stuart has credits in the art department for the 1993 feature film "The Age of Innocence," along with a small acting part in "Houses" which was written by Sandow.
The "Orange Is the New Black" actor tends to keep his personal life under wraps, but did reveal details about his newly renovated family Brooklyn home. "Tamara's an artist," Sandow said of their townhouse in The New York Times in 2015. "This was her piece, and she worked on it intensely." Sandow also revealed that his partner is "a fanatic for Italian cinema" and that they designed their living room to double as a home cinema. "This is where we watch movies," he shared.
However, Sandow also admitted that it was a "tough transition" to move out of Manhattan, but now the couple are both smitten with their Brooklyn home. "Now you couldn't give me a place in Manhattan," the actor added.
Jayne Atkinson enjoys working with her husband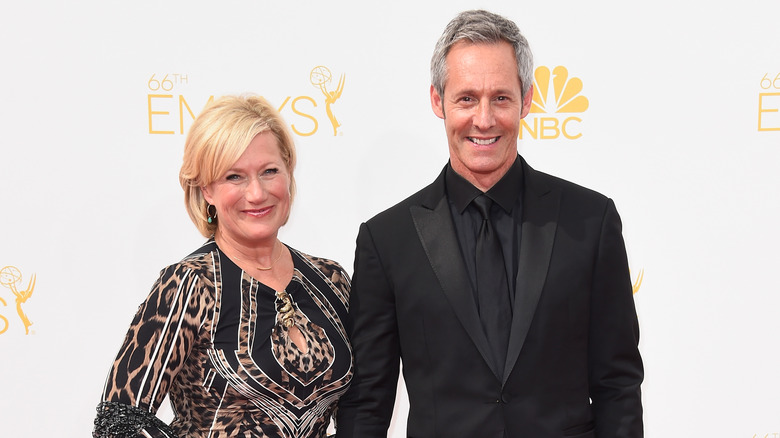 In "Clarice," Jayne Atkinson plays Ruth Martin, the US Attorney General and mother of Catherine Martin. Off the screen, Atkinson is married to fellow actor Michel Gill. The pair have thriving careers independent of each other, though they also enjoy working together. In fact, it's actually how they met.
As the New York Post noted, Atkinson and Gill first crossed paths while performing in "The Heiress" at New Haven's Long Wharf Theater. However, there were a few false starts in their relationship. "We very quickly had a connection that we could not act upon at the time," Gill told the New York Post, explaining that Atkinson was involved with someone else at the time. Luckily the pair's paths would cross again when they were both in a production of "As You Like It." The timing was right and "we fell deeply in love," Gill revealed.
The couple obviously enjoyed working together and have since gone on to co-star in the popular Netflix series "House of Cards." Atkinson and Gill are not immune to the challenges of working and living together, though. "Relationships are fragile to begin with," Gill said in the New York Post. "This business just finds a way of interfering. You are separated for periods of time. It's mentally impossible for two people to carry on in a relationship if you're separated." The pair, who have been married for over 20 years, say they make it work by not taking "one moment for granted."
Douglas Smith's marriage has flown under the radar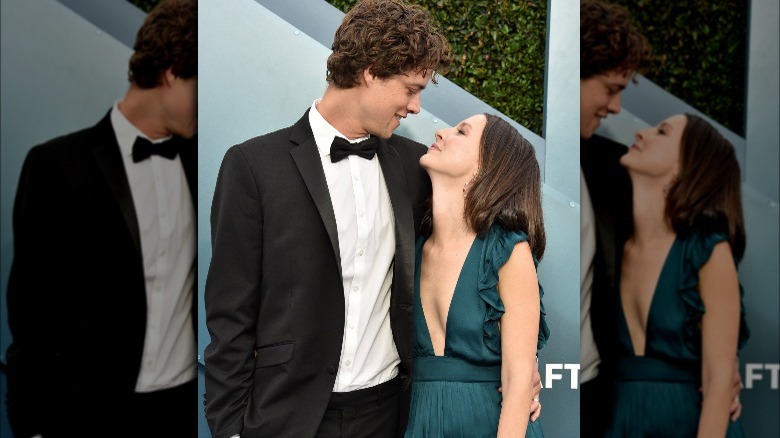 Canadian-born actor Douglas Smith plays Tyson Conway in "Clarice." The actor is best known for playing Corey Brockfield in the second season of "Big Little Lies" alongside Reese Witherspoon and Shailene Woodley.
Smith has been married for three years but it's possible you missed the announcement, which was very low-key. The actor married his longtime girlfriend Tricia "Teesh" Travis in April 2018, but played down the event on social media. "So Saturday was pretty cool I guess #justmarried," he wrote on Instagram alongside a picture of himself and his new bride walking down a road after the event.
Smith's subdued Instagram post isn't unusual when you look at his account, which boasts very few posts. However, the actor did reveal one more insight into his personal life several months later. "Honeymoon in Paris," the "Big Love" actor wrote on Instagram alongside a snap of the couple kissing in front of the Eiffel Tower. According to their Zola wedding registry, Paris has a special meaning for the couple, who call themselves "serious Francophiles" and connected over this shared interest when they first met.
Wait, did Shawn Doyle get married?
Shawn Doyle plays Clarice's FBI-appointed therapist in early episodes of the series. The actor is known for his main role in "The Expanse" and guest appearance on "House of Cards" alongside fellow "Clarice" actor Jayne Atkinson. In real life, Doyle happens to be in a long-term relationship with fellow Canadian Paula-Jean "PJ" Prudat.
Prudat "is a playwright, poet and writer of stories," according to her National Arts Center biography. Her work has both received and been up for accolades. "A big congratulations to my love. One of three finalists for the prestigious Cayle Chernin Award for Theatre for her play Nimihko. You inspire me every day," Doyle wrote on Instagram in celebration of Prudat's Cayle Chernin Award nomination.
We're not sure when this couple first started dating, but they made their relationship public when they made their red carpet debut at the Canadian Screen Awards in 2018 (per Hello!). Although no official announcement has been made, it appears that the couple may have tied the knot: In a July 2021 video Doyle posted on Instagram, Prudat can be seen sporting a wedding band on her ring finger.
Tim Guinee is blissfully happy with his wife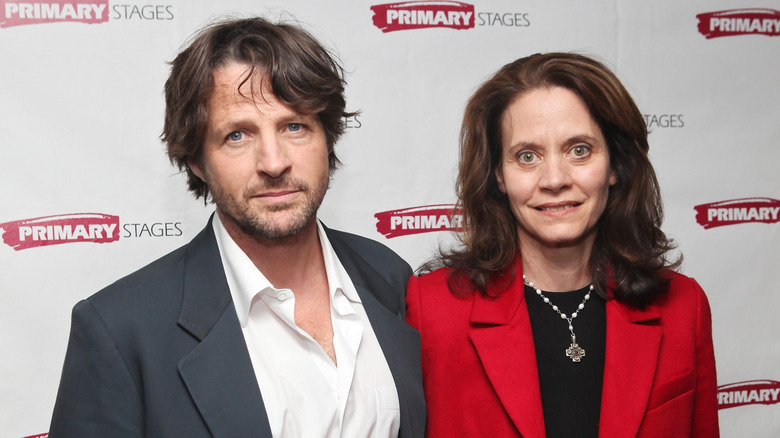 Tim Guinee, who plays militia leader Novak in "Clarice," is married to thespian Daisy Foote in real life. According to The New York Times, Foote is an actor and playwright known for writing plays such as "Bhutan" and "When They Speak of Rita," and she married Guinee in 1997. "24 years with This guy. I am a lucky lady," Foote wrote on Instagram alongside a photo of her husband in celebration of their anniversary.
Foote is also the daughter of the playwright Horton Foote who is famed for writing the screenplays for "To Kill a Mockingbird" and "Tender Mercies." While she has enjoyed a successful career, Foote has been open about her struggles while dealing with critical comparisons between herself and her father. "I've done fine, but if I had been a rousing success from the start, I don't think people would be comparing us in the same way. My dad was very aware of that, and it worried him," she told The New York Times in 2012. No one thinks twice about "people [who] become doctors when their fathers are," she added. Thankfully, Foote has had her husband by her side through it all. "I am so lucky for you in my life," she wrote to Guinee on Instagram.
Caitlin Stryker's husband says he 'tricked' her into getting hitched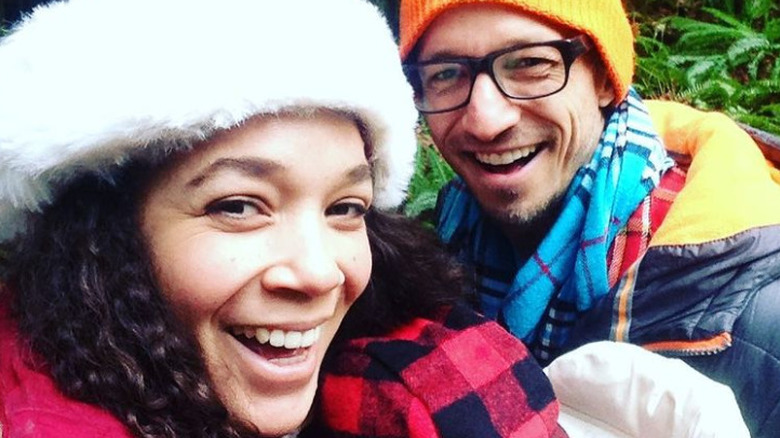 Actor Caitlin Stryker plays reporter Rebecca Clarke-Sherman in "Clarice." Off-screen she is married to "Smallville" actor Bradley Stryker. "Caitlin Stryker, yup I tricked her into marrying me," her husband joked on Twitter in response to a fan comment.
The "Chesapeake Shores" cast member may have had to vie for his wife's attention initially, but the couple appear blissfully happy together now. In 2015 they welcomed son Beckett, who they refer to as #thedude on social media. "#happybirthday to #thedude" Stryker wrote on Instagram, tagging his wife in the post. "So many adventures in the books, and so many more to come," he added.
Alongside raising Beckett, the pair balance their busy careers. "My wildly talented wife is directing a play that you can watch from your home!!" Bradley Stryker boasted on Instagram in support of his wife's quarantine project. Prior to starring in "Clarice," Caitlin Stryker also collaborated with her husband on an episode of the "Foreign Af" web series. "The hubby and I had a blast making this," she said on Instagram.
Source: Read Full Article